TGIF, H54F-ers!!! Della at Della Devoted, Katie at Cup of Tea, and myself want to welcome you to the link-up and the weekend. We made it! And happy Good Friday! I hope that everyone has a great weekend and a wonderful Easter!!!

This week's featured blogger is Stephanie from Stephanie Spring, a beauty, food, and lifestyle blog. I love her recent soundtrack to life post (lots of good throwbacks) and her energy bites look yummy. She's also participating in a cool 30 day prayer challenge.

Now let's recap this week's highlights:

1. My pink chair came in on Friday! Everyone needs a pink chair in their living room, right?!


2. On Saturday, Kane and I headed to Richmond. We picked up pizza and french fries from Gillum's Sports Lounge and then headed to my friend's house to meet her new baby. She has a little girl who is Kane's age so they got in a lot of play time while my friend and I caught up.

3. My mom was off work this week, so she and my mother-in-law came to Lex on Sunday. We took them to one of our favorite restaurants in town, Saul Good. Then they took Kane back to eastern Kentucky with them for the week. We've missed our little guy so much and look forward to seeing him this weekend!

4. Since Kane was in eastern Kentucky, Chauncey and I headed out for a date night on Wednesday. I wanted a burger and Chauncey wanted bourbon, so we hit up JDI downtown. Afterwards, we stopped by Crank and Boom for an ice cream. Chauncey got Bourbon & Honey, and I got Salted Caramel. Needless to say, it was a delicious night!



5. I got in my very 1st shipment of Elf products this week. There were 8 products in it, and I've been trying them out. When you're a blogger, trying out new products is like conducting a scientific experience. Findings will be on the blog in the next couple of weeks.haha


ICYMI, here's this week's posts:
1. $10 at Target: Either/or Edition
(Because who can spend just $10 at Target? So I did it 2x.)
2. When Your Child Hates the Easter Bunny
(My advice for an alternative–some disastrous and adorable Easter pics of Kane)

Thanks for joining us for H54F! Be sure to link-up below and/or let us know how your week's been in the comments!

Follow along on GFC (click link or click button sidebar), Bloglovin' (click link or click button on sidebar), or email (click here). Also, tweet us or use #H54F and we'll retweet your post!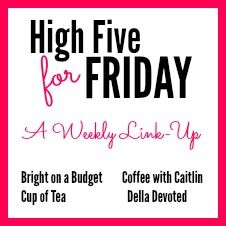 <div class="bright-on-a-budget-button" style="width: 200px; margin: 0 auto;">
<a href="https://www.brightonabudget.com" rel="nofollow">
<img src="http://i40.photobucket.com/albums/e232/coffeewithcaitlin/h54f2_zpsc7e1f4e7.jpg" alt="Bright on a Budget" width="200″ height="200″ />