TGIF, H54F-ers!!! Della at Della Devoted, Katie at Cup of Tea, and myself want to welcome you to the link-up and the weekend. We made it!

This week's featured blogger is Beth from Our Pretty Little Girls, a lifestyle blog. Beth homeschools her girls. She recently shared an easy Tex-Mex Sloppy Joe recipe and another about Po Power Crunch Cereal Cookies, and I was really inspired by this post about how she fights depression.
***UPDATE***
I've been working on a special collaboration with Kentucky Brewed Tees and it's now live! Check it out here.


Now let's recap this week's highlights:
1. Kane spent last week back home in eastern Kentucky with our parents, so I was super excited to see him last Saturday. He kept yelling, "My momma home! My momma home!" There's nothing sweeter than his little arms wrapping around my neck:)
2. We headed home for Easter last weekend, so Della and I took Raylan and Kane to an egg hunt at Della's church. The boys had such a fun time playing on the inflatibles, hunting eggs, and eating pizza. Kane kept pointing to his shirt and saying, "Dinosaur eat Easter Bunny." You remember that Kane HATES the Easter Bunny, right?haha Problem solved–the dinosaur took care of it.
3. After the egg hunt, we headed down to a family get-together. It was fun to see family that I hadn't see in forever. Chauncey's aunt has a huge yard, and Kane had the run of the place.

4. On Easter Sunday, Kane opened his Easter basket, and then he and I headed to church. We stopped by my parents house (my mom is a nurse and had to work that evening) and then he headed off to hunt eggs again. With every egg he found, he'd pick it up and say, "Dinosaur egg!" I actually purchased some plastic eggs with baby dinosaur toys in them from Amazon, so he wasn't disappointed when he cracked them open:)



5. We have some family in town right now, and we all had a nice dinner out at Chuy's last night. I used to hate eating there, but now it's my favorite place to eat. Go figure.haha


And ICYMI, here's this week's posts:
(a tutorial on the brushes I use–I go 5 days without washing my hair)
(sharing an outfit with all my favorite trends for this season)

Thanks for joining us for H54F! Be sure to link-up below and/or let us know how your week's been in the comments!

Follow along on GFC (click link or click button sidebar), Bloglovin' (click link or click button on sidebar), or email (click here). Also, tweet us or use #H54F and we'll retweet your post!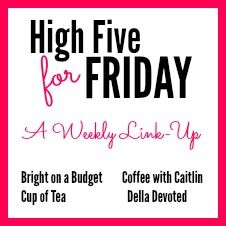 <div class="bright-on-a-budget-button" style="width: 200px; margin: 0 auto;">
<a href="https://www.brightonabudget.com" rel="nofollow">
<img src="http://i40.photobucket.com/albums/e232/coffeewithcaitlin/h54f2_zpsc7e1f4e7.jpg" alt="Bright on a Budget" width="200″ height="200″ />