TGIF, H54F-ers!!! Della at Della Devoted, Katie at Cup of Tea, and myself want to welcome you to the link-up and the weekend. We made it!

This week's featured blogger is Tanya from The Other Side of the Road, a lifestyle blog. Tanya has been blogging for 12 YEARS and is actually celebrating her 2000th post today!!! How awesome is that?! She recently visited the Stephen F. Austin State Park, which looks like a lot of fun. She also does a monthly Media Monday post where she shares about what she's read and what she's watched in the last month.

Now let's recap this week's highlights:

1. The Blogger tee is now available to order! I was so excited to finally be able to share this project with you all. I had been rolling around the idea of a blogger tee for a while, and was discussing it with Ben from Kentucky Brewed Tees when we decided to collaborate and make it happen! It's available at the special price of $18–you can order here or check out more about it here. I'd love it if you'd share it with your blogging buddies.


2. We finally got Kane's room painted thanks to my mother-in-law. And we finally got curtains hung out downstairs! I'm so glad things are starting to come together after a year of living in this house.haha

3. Of course we went out to dinner this week. We headed out to Rooster's, one of my favorite places, on Tuesday night. I love this sweet snap of Kane and I that Chauncey took. Kane was saying, "Cheesssssse!!!" He always squints his eyes when he does it. We also ate out at a new restaurant called Burger Fi this week, which reminded me of Shake Shack. It was delicious and affordable, so we'll definitely eat there again.



4. We finally finished Making a Murderer on Netflix. I know it's not the whole story, but I am so appalled by what I've seen. It wasn't like it's just one thing that seems to have not been above water–it was multiple things across the board. And as an attorney myself, it made me so upset to see how it seems that Brandon Dassey's attorney not only totally failed in advocating for his client, but seemed to be very helpful to the prosecution of Steven Avery. So sad all-around.
5. Speaking of finally, I also finally found this mint tee that I bought last summer and put back for fall. Well, fall came and went without me finding it, despite me looking several times for it. Does anyone else tend to that? It annoys me so bad when I do. Since I found it, I was excited to wear it for the cooler weather we've been having this week, and I paired it with this cute gold necklace from Purple Peridot. I'd been stalking the necklace for months, and it finally went on sale for $11.99 on Easter:)
ICYMI, here's this week's posts:
Also, for my fellow bloggers, I'd like to invite you to join H54F-er Grammie Time for her Thursday linkup Party at My Place! So much good content!

Thanks for joining us for H54F! Be sure to link-up below and/or let us know how your week's been in the comments!

Follow along on GFC (click link or click button sidebar), Bloglovin' (click link or click button on sidebar), or email (click here). Also, tweet us or use #H54F and we'll retweet your post!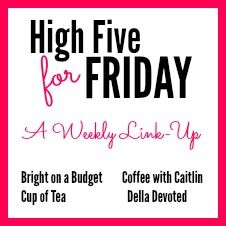 <div class="bright-on-a-budget-button" style="width: 200px; margin: 0 auto;">
<a href="https://www.brightonabudget.com" rel="nofollow">
<img src="http://i40.photobucket.com/albums/e232/coffeewithcaitlin/h54f2_zpsc7e1f4e7.jpg" alt="Bright on a Budget" width="200″ height="200″ />