TGIF, H54F-ers!!! Della at Della Devoted, Katie at Cup of Tea, and myself want to welcome you to the link-up and the weekend. We made it!

This week's featured blogger is Stefanie from Lexie Loo, Lily, Liam & Dylan Too, a mom and lifestyle blogger. She just shared a recipe for paprika chicken & dumplins, and a cute post about one-on-one time with her daughter. Also, check out her inspiring post about Life with Down Syndrome.


Now let's recap this week's highlights:

1. On Friday, Nina from A World of Dresses was in town, so we met up for lunch at Saul Good. It was so nice to finally meet her. We had a fun time chatting about anything and everything, and coincidentally, I went to law school with one of her old roommates–small world!


2. Kane and I ran to Richmond to pick up my wedding set this week. The shank on my engagement ring has been messed up for about a year and a half. Long story short, I sent it off to have the prongs re-tipped, and it came back with the standard shank instead of a tapered shank. Well, I sent the set off week before last (I think) to see if they could fix the shank and re-dip both rings. I'm happy to report that they finally were able to get the shank fixed right!!! Then Kane and I had a mother-son dinner at Gillum's Sports Lounge. We love the pizza and fries there.
3. I got a little me-time last weekend, so I ran out to the mall. MAC Cosmetics has reduced prices on some of their eye shadows online and palettes both in-store and online, and I wanted to play with some new shades before ordering. I always love seeing what someone else thinks will look good on me. If you haven't changed up your makeup routine in a while, stop by a beauty counter and let them give you some color suggestions.
4. I am really picky when it comes to jeans. A blogger I follow had recommended the SP Black brand from Nordstrom, and I found a really good deal on 2 pairs from Nordstrom Rack. One pair sold out super quickly since they were just $15, but the
other pair
is still available. Do yourself a favor and check them out.
5. Kane and I have taken a walk two days this week! He thinks it's fun, and I'm enjoying getting the exercise. All-around gorgeous week!
Don't forget that the Blogged tee is now available! You can order here or check out more about it here. I'd love it if you'd share it with your blogging buddies.


ICYMI, here's this week's posts:
(checkout my latest 2 boxes)
(sharing 2 of spring's hottest trends)



Thanks for joining us for H54F! Be sure to link-up below and/or let us know how your week's been in the comments!

Follow along on GFC (click link or click button sidebar), Bloglovin' (click link or click button on sidebar), or email (click here). Also, tweet us or use #H54F and we'll retweet your post!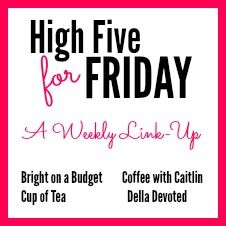 <div class="bright-on-a-budget-button" style="width: 200px; margin: 0 auto;">
<a href="https://www.brightonabudget.com" rel="nofollow">
<img src="http://i40.photobucket.com/albums/e232/coffeewithcaitlin/h54f2_zpsc7e1f4e7.jpg" alt="Bright on a Budget" width="200″ height="200″ />