TGIF, H54F-ers!!!
Della at
Della Devoted
, Katie at
Cup of Tea
, and myself want to welcome you to the link-up and the weekend. We made it!
This week's featured blogger is Nina from A World of Dresses, a fashion blogger from Cincinnati. I actually just met Nina in person for the first time, so you might recognize her from last week's H54F post. She has over 60 dresses in her closet, and her blog is about not only styling them, but the women behind the dresses as well. I love her post about how to style a navy dress. She was also recently in a wedding, and posted about the dresses of her friend's wedding–such a cute way to showcase wedding day fun!
Now, let's recap this week's highlights:
1. I've wanted some Hunter boots for quite a while, but I refuse to pay out for them. Well, yesterday the Clothes Mentor in Lexington got in a Tiffany blue pair. Just in case there's any question, they're now sitting beside my front door!
2. I met a sweet friend for lunch at Malone's. She's an attorney and mom too, so we always have a lot to talk about.
3. Kane's daycare has a movie night to watch Zootopia. I took Kane to Chick-Fil-A before Chauncey got off work, then we met him at the movies. It was awesome because we were in a theater with the actual recliners for seats. Kane was convinced to share his popcorn. Zootopia was a really cute film!
4. Kane and I made a late night trip to eastern Kentucky after the movie. We got to see our family, and we even went out to eat on Saturday with my mom, my brother, and his girlfriend. After some debate (on my brother's part, as I already KNEW where we were going), we headed out to Pig in a Poke. I even got to shoot an outfit with Della:)
5. Um, there was evidently lots of good food involved this week now that I'm looking back on it. I met up with Rynetta from J Crew Is My Fav Store on Monday night at Saul Good. Of course I wore J. Crew that night!
ICYMI, this week's posts:
Don't forget that the Blogged tee is now available! You can order here or check out more about it here. I'd love it if you'd share it with your blogging buddies.

Thanks for joining us for H54F! Be sure to link-up below and/or let us know how your week's been in the comments!

Follow along on GFC (click link or click button sidebar), Bloglovin' (click link or click button on sidebar), or email (click here). Also, tweet us or use #H54F and we'll retweet your post!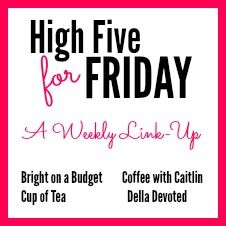 <div class="bright-on-a-budget-button" style="width: 200px; margin: 0 auto;">
<a href="https://www.brightonabudget.com" rel="nofollow">
<img src="http://i40.photobucket.com/albums/e232/coffeewithcaitlin/h54f2_zpsc7e1f4e7.jpg" alt="Bright on a Budget" width="200″ height="200″ />