TGIF, H54F-ers!!!
Della at
Della Devoted
, Katie at
Cup of Tea
, and myself want to welcome you to the link-up and the weekend. We made it!
Today's feature blogger is another Kentucky girl–Kelsey from The Peacock's Roost. Kelsey is a lifestyle blogger in the financial industry, and she owns an organic lawn care business with her husband. The Peacock's Roost is a lifestyle blog. I really enjoyed Kelsey's bathroom re-redo. It had me cracking up and turned out great! Kelsey posts cute outfits too, and she's sharing her weight loss journey.
Now let's recap this week's highlights:
1. Saturday would been my Mamaw's birthday. Each year, I like to do something to celebrate, so we went out to lunch at Chuy's. I miss her so much, but I love thinking about the good times.
2. I also celebrated by shopping at Target and Old Navy on Saturday. . .what can I say? Mamaw LOVED a good deal? (she was my very 1st partner-in-crime for Black Friday). Target had 40% off Merona clothes and BOGO 50% off for shoes. Old Navy had 30% off your entire purchase. I basically needed 1 of everything.
3. Sunday morning started off with an ice cream date. I rolled out of bed and met my friend Jacque and her mom at Sav's Chill downtown, so yes, I woke up like that!haha I pulled on a tee shirt dress, some jewelry, and a pair of sunnies. This is the same thing I woke in my Fresh Face for Spring post this week because I shot it later that day.
4. Sunday evening was family time. We headed to Newk's Eatery to grab a bite to eat before taking Kane to the local playground. He loved it and kept saying, "I LOVE this playground!" So cute, guys.
5. I got my car detailed and it's awesome! It needed it for sure. If you're in the Lexington area and need your car detailed, shoot me an email and I'll send you my guy's info.
And ICYMI, here's the fun that's on the blog this week:
1. Fresh Face for Spring
(daily face routine + cute coral makeup look for spring)
(most under $50 + a new $$$-saving website)
(trendy + affordable outfit for spring)
(over at Polka-Dotty Place)
Thanks for joining us for H54F! Be sure to link-up below and/or let us know how your week's been in the comments!

Follow along on GFC (click link or click button sidebar), Bloglovin' (click link or click button on sidebar), or email (click here). Also, tweet us or use #H54F and we'll retweet your post!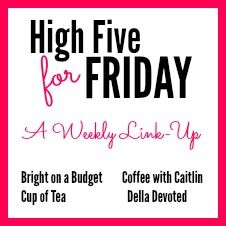 <div class="bright-on-a-budget-button" style="width: 200px; margin: 0 auto;">
<a href="https://www.brightonabudget.com" rel="nofollow">
<img src="http://i40.photobucket.com/albums/e232/coffeewithcaitlin/h54f2_zpsc7e1f4e7.jpg" alt="Bright on a Budget" width="200″ height="200″ />