TGIF, H54F-ers!!! Della at Della Devoted, Katie at Cup of Tea, and myself want to welcome you to the link-up and the weekend. We made it!
This week's featured blogger is Johannah from The Sirois Family, a lifestyle blog. Johanna is a 911 dispatcher who's married to a police officer, and they have two little girls. Her recent post All About Nails is so fun! I also took notes from her spring bucket list
Now let's recap this week's highlights:
1. I've finally started using Snapchat! My username is brightonabudget, so if you're on there, add me:)
2. We tried out Sutton's last Saturday. We're always said we wanted to try it out, but in the seven years I've lived in Lexington, we never had. Even Kane thought it was yummy, and I want to go back to try out the patio later this summer.
3. I had to attend a continuing education class two days this week, and the outfit above is what I wore one of those days. I'm just going too say it–the outfit was pattern mixing perfection! I really like how the two patterns share a color scheme but are completely different.
4. Tuesday night was spent with Jude Deveraux's new book and putting on my new mermaid Jamberry nails from Becky. The book is awesome and a good read for summer–romance + intrigue! And the nails may or may not be for a fun themed outfit post coming your way soon!
5. I found my Lexington hairstylist (full story on this past Monday's post), and headed over to her house last night to get my hair cut. I was so happy to find her and say goodbye to some split ends!
ICYMI, here's this week's posts:
(how to style rainboots for spring)
(you need to add this top to your spring wardrobe!)
(from last week, but I know some of us are last minute)
Thanks for joining us for H54F! Be sure to link-up below and/or let us know how your week's been in the comments!
Follow along on GFC (click link or click button sidebar), Bloglovin' (click link or click button on sidebar), or email (click here). Also, tweet us or use #H54F and we'll retweet your post!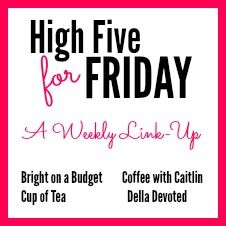 <div class="bright-on-a-budget-button" style="width: 200px; margin: 0 auto;">
<a href="https://www.brightonabudget.com" rel="nofollow">
<img src="http://i40.photobucket.com/albums/e232/coffeewithcaitlin/h54f2_zpsc7e1f4e7.jpg" alt="Bright on a Budget" width="200″ height="200″ />