TGIF, H54F-ers!!! Della at Della Devoted, Katie at Cup of Tea, and myself want to welcome you to the link-up and the weekend. We made it!
This week's blogger is Keri from Living in This Season, an inspirational lifestyle blog. I love her post about how to make a difference from home. She also has some solid advice on why you need to start making goals. And she's getting ready to release an ebook later this month, so be sure to keep your eye on her page for that!
Now let's recap this week's highlights!
1. I had such an awesome Mother's Day! I'm so blessed to be Kane's mom, and have been blessed with such wonderful mothers in my life. We started the day by going to church, where I got a knockout roses bush for being the youngest mom. Afterwards, Kane and I swung by my mom's house to spend some time with her since she had to work that night (she's a nurse), then headed out to eat with Chauncey's mom and swung by his grandma's house to visit.
2. Chauncey and I had a date night!!! We took a stroll in Triangle Park, where we shot picture for the Under the Sea Style post. While waiting for our table at Pies and Pints, we ducked into Urban Outfitters next door. It was my 1st time checking that place out, and I left with a new pair of sunglasses I love! Once we were full of yummy pizza, we met up with some friends at Henry Clay's Public House, and got to watch another friend's brother, Grayson Jenkins, perform some music. So fun!
3. Um, I had a flat tire yesterday that I took to be fixed. Unfortunately, it had multiple holes in it, and when they found the 3rd hole, they gave up on fixing it. The good news is that they replaced it for free!
4. I joked that my Mother's day gifts from Chauncey and Kane were for the fashionable nerd. They got me a Moon and Lola necklace with Kane's monogram and the newest Rick Riordan book:)
5. Chauncey and I also got in a little bit of pool time with friends. Heated pools are awesome, until it's time to get out.haha Then it gets cold quick. I love my swimsuit from Victoria's Secret! I'm really sad that they're no longer planning on carrying swimsuits after this year., because it's my go-to place.
ICYMI, here's this week's posts:
(review of 5 items in Tarte's newest makeup line)
(some Little Mermaid-inspired style)
(how I easily remove stains)
Thanks for joining us for H54F! Be sure to link-up below and/or let us know how your week's been in the comments!

Follow along on GFC (click link or click button sidebar), Bloglovin' (click link or click button on sidebar), or email (click here). Also, tweet us or use #H54F and we'll retweet your post!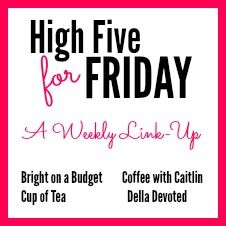 <div class="bright-on-a-budget-button" style="width: 200px; margin: 0 auto;">
<a href="https://www.brightonabudget.com" rel="nofollow">
<img src="http://i40.photobucket.com/albums/e232/coffeewithcaitlin/h54f2_zpsc7e1f4e7.jpg" alt="Bright on a Budget" width="200″ height="200″ />