This post contains affiliate links.

TGIF, H54F-ers!!! Della at Della Devoted, Katie at Cup of Tea, and myself want to welcome you to the link-up and the weekend. We made it!
This week's featured blogger is Jessica from
Sweet Little Ones
, a lifestyle blog. She's momma to three little ones, and has shared inspiring posts about her family's journey with
infertility
and
adoption
. Jessica is one of the hosts of Tuesday Talk, and I love her
summer bucket list
. Even more fun–Jessica has recently opened an
Etsy shop featuring her beautiful prints
(downloadable, so you don't have to wait for them to ship)! The prints are very affordable, and to celebrate being this week's featured blogger for H54F, she's offering 20% off to all of you with code
HIGHFIVE20
for 20% off your purchase through May 27.
Now let's recap this week's highlights:
1. I am typing this post on my new 12″ Macbook! I have debated about getting a new laptop for six months and finally went and purchased this one last night. My Macbook Air was 4 years old, and we'd been through a lot together–last semester of law school, the bar exam, an MBA, and starting the blog. It's crazy how sentimental we can get over a material item, isn't it? Anyways, I went for the gold one, although the rose gold version was very tempting.
2. I had a meeting last Friday for a new collaboration, and just got word that some things we discussed are a go! As a heads-up for my Lexington and central Kentucky readers, I will be holding some styling classes (think "how to accessorize" or "how to put together a date night look") at two stores in the Lexington area soon, as well as showcasing a restaurant and an event on the blog. Stay tuned for more details! You all will know just as soon as everything is set. Oh, and I ate this yummy burger during the meeting.
3. It's been an awesome mail week around here! I got in some gorgeous new items from
Lucky Peanut Jewelry
that I'll be sharing with you next week. My new Ipsy bag arrived. My prizes from a giveaway I entered with
A Dip of Darling
were delivered, and so were my new arrivals from J. Crew Factory. I even broke down and brought a new blowdryer because Groupon had the
Rusk Speed Freak
for $48! FYI–save $10 off your first Groupon purchase with code SAVE10, and get 6% cashback using
Ebates
($10 signup bonus if you're not already using Ebates)! Okay, there might have been one or two more packages. If you want sneak peeks behind the scenes around here, like what I'm purchasing and what dinosaurs are currently taking over my house, be sure to follow along on Snapchat! My username is brightonabudget.
4. I took Kane to a birthday party at our local Monkey Joe's last weekend and he loved it! He literally flipped (out of his seat) when he saw Mickey Mouse! And he loved playing the games.
5. We have family movie night every Friday night, so I did a
post sharing a cute and easy idea
for a family movie night. It's such a great way to spend time together as a family. We usually let Kane pick the movie.
ICYMI, here's the other posts from this week:
1. Make a Splash: Fun Family Movie Night
(minimal Pinterest skills required)
2. $10 at Target: Sharpies and Flamingos
(part could be a cute grad gift idea for graduating seniors–thank you card bag)
3. Must-Have Skirt for Summer: Neon Lace
(I wore this to my meeting last Friday)
Thanks for joining us for H54F! Be sure to link-up below and/or let us know how your week's been in the comments!

Follow along on GFC (click link or click button sidebar), Bloglovin' (click link or click button on sidebar), or email (click here). Also, tweet us or use #H54F and we'll retweet your post!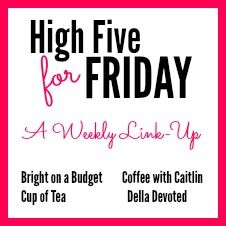 <div class="bright-on-a-budget-button" style="width: 200px; margin: 0 auto;">
<a href="https://www.brightonabudget.com" rel="nofollow">
<img src="http://i40.photobucket.com/albums/e232/coffeewithcaitlin/h54f2_zpsc7e1f4e7.jpg" alt="Bright on a Budget" width="200″ height="200″ />