TGIF, H54F-ers!!! Della at Della Devoted, Katie at Cup of Tea, and myself want to welcome you to the link-up and the weekend. We made it!
This week's featured blogger is Brittney from Off the Vine, a mommy/lifestyle blog. Brittney is a SAHM to her two girls. She spoke the truth in her post about 11 things she didn't expect during labor. And she has a very insightful post about one very important question to ask before homeschooling.
Now let's recap this week's highlights:
1. Kane and I headed to eastern Kentucky for a couple of days over Memorial Day weekend. We took my mother-in-law out for a late birthday dinner with my mom at Pig in a Poke. I also got to see one of my best friends from high school and hang out with her family for a little bit. It was nice and relaxing.
2. When I got back to town on Sunday, I went to meet Mariah from Faith & Fashion for ice cream at Sav's Chill. The ice cream was yummy as usually–I got coconut ice cream and chocolate hazelnut gelato. She had her baby with her, and let me tell you, he's so handsome!
3. On Memorial Day, we just chilled. We laid around the house and then went out to Hopcat for dinner. This was our first time trying Hopcat. I had been wanting to go there for a while because their french fries are supposed to be Top 10 in the U.S. They're called crack fries, which is appropriate, because those fries are amazing! I didn't know how I'd feel about beer-battered fries, but they worked. The burgers were also good. The best part is we unknowingly went during happy hour, so our entire meal–two burgers and fries, one hamburger kids meal, a lemonade, and two beers for Chauncey–came in under $30!!!
4. I found a beautiful dress from Versona to wear for Kane's birthday pics this weekend, as well as our anniversary in a couple of weeks. I can't find it online, even though it was there earlier this week.
5. Old Navy was having an extra 30% off clearance, and I found a pair of white espadrilles for only $1.37!!! And I found my mom a pair of leopard print Harper pants for $0.68!!! Love getting a good deal!
ICYMI, here's this week's posts:
Thanks for joining us for H54F! Be sure to link-up below and/or let us know how your week's been in the comments!

Follow along on GFC (click link or click button sidebar), Bloglovin' (click link or click button on sidebar), or email (click here). Also, tweet us or use #H54F and we'll retweet your post!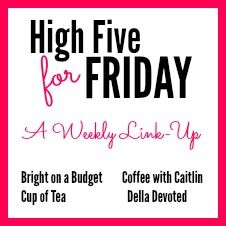 <div class="bright-on-a-budget-button" style="width: 200px; margin: 0 auto;">
<a href="https://www.brightonabudget.com" rel="nofollow">
<img src="http://i40.photobucket.com/albums/e232/coffeewithcaitlin/h54f2_zpsc7e1f4e7.jpg" alt="Bright on a Budget" width="200″ height="200″ />