TGIF, H54F-ers!!! Della at Della Devoted, Katie at Cup of Tea, and myself want to welcome you to the link-up and the weekend. We made it!
This week's featured blogger is Jessica from Life. Love. Reality, a lifestyle blog. Jessica works full-time and is also mom to two little girls. She has a fun post about her summer bucket list, and her birthday party favorites post is such a sweet look-back.
Guys, sorry it's been a little bit quiet in these parts, but it's been such a busy, hectic week. Sometimes you just have to roll with it. That said, I have lots of blog reading and commenting to catch up on this weekend.
Now. let's recap this week's highlights:
1. It was Kane's 3rd birthday this week! We started off the celebration with Good Dinosaur cupcakes at daycare. All the kids loved them. Kane took his to the Braveheart level with the icing.haha
2. We took him out for dinner at the Cheesecake Factory. Kane seemed a little embarrassed when they came out to sing to him, but he loved blowing out the candle on his cheesecake!
3. Then we headed home to open gifts. He loved them–an Imaginext Megazord, a dinosaur backpack, and some more dinosaur toys.
4. I went to the SOAR Innovation Summit this week. SOAR is an organization dedicated to revitalizing eastern Kentucky. It is amazing seeing what solutions are already been implemented, and I'm so excited for what's to come! I'm so thankful to work for a place that is a proud supporter of SOAR and eastern Kentucky!
5. My favorite outfit from the week. The skirt was an Old Navy clearance find for like $4.50!
ICYMI, here's this week's posts:
(I tried out 8 products from this popular brand)
(all are easy and affordable!)
Thanks for joining us for H54F! Be sure to link-up below and/or let us know how your week's been in the comments!

Follow along on GFC (click link or click button sidebar), Bloglovin' (click link or click button on sidebar), or email (click here). Also, tweet us or use #H54F and we'll retweet your post!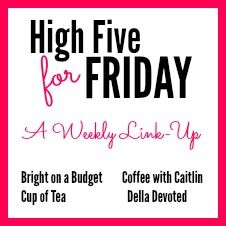 <div class="bright-on-a-budget-button" style="width: 200px; margin: 0 auto;">
<a href="https://www.brightonabudget.com" rel="nofollow">
<img src="http://i40.photobucket.com/albums/e232/coffeewithcaitlin/h54f2_zpsc7e1f4e7.jpg" alt="Bright on a Budget" width="200″ height="200″ />