TGIF, H54F-ers!!! Della at Della Devoted, Katie at Cup of Tea, and myself want to welcome you to the link-up and the weekend. We made it!
This week's featured blogger is Michelle from Grammie Time, a lifestyle blog. Michelle is a great blogging buddy of mine:) She's a transitional kindergarten teacher and loves a good bottle of wine. Michelle hosts the Party at My Place linkup every Thursday–this week's post has tons of great features for summer goodness. I love her recent summer reading tips for preschoolers too.
This week has been wild. I woke up last Friday morning feeling like I'd been hit by a bus. Turns out I have mono again! At least it had the decency to wait until I got back from vacation to rear its ugly head. Ugh. Not a highlight of this week, but there were plenty of goodness, so let's recap those highlights this week:
1. I love coming home from vacation to all the mail that's waiting on you. These Tory Burch espadrilles were a Poshmark find. They're like new and I think I paid $65 after using $10 worth of credits. If you haven't checked out Poshmark yet, download the app and use my referral code for a $5 credit:) The Marc Jacobs Beauty Glow Stick Glistening Illuminator was sent to me to try by Influenster, and I'm in love! It's a neutral shade with a great formula that blends smoothly. The shape makes it easy to apply straight from the stick too. It's my new favorite highlighter! And finally, this beautiful flamingo dress retails for $88, but I snagged it during a sample sell on the T&J Designs Instagram feed for $40!!!
2. After I got out of the doctor's office on Friday evening, Kane and I went to Miss Ida's Tea Room for dinner. Then we met up with Della and Raylan at the movies to watch Finding Dory! This was the boys' first 3D movie. Della and I loved the movie, maybe even more than the boys did.haha
3. We chilled out with my dad in eastern Kentucky on Saturday before heading back to Lexington that evening. On Father's Day, Kane and I took Chauncey out to eat at Wallace Station in Midway. We got the biggest burgers and let Kane play around outside–it's such a cool little place! Kane even picked out Chauncey's card from him all by himself (can you guess which one it is?haha). And check out Chauncey's sweet Game of Thrones figures that I got him. They're playing with Kane's dinosaurs.
4. After dinner last night, I headed out to Bath and Body Works to pick up some sale items. This outfit will be coming to the blog next week, along with a giveaway!!! And that hair is
5-day hair
at the end of the day.
5. This was Kane when I dropped it off at daycare on Wednesday. It was splash day but he was clearly not excited. It may me think that this much be how the bachelors feel when they don't get a rose on the Bachelorette.haha
And funny Kane story. Kane fell last week and got a boo-boo on his hand. He told me this week not to touch his hand because he had a shark bite! I looked at him and was like, "A shark bite?" He said, "Yeah, a shark bit me," and went back to watching his show. Just acted like it was the gospel truth.hahahaha Even showed his teacher his "shark bite" without hesitation when I asked him too.
ICYMI, here's this week's posts:
Also, Bright on a Budget has recently been featured on a couple of blogs, which I'd love for you to check out: having confidence in your summer wardrobe and as part of the Spotlight Fashion linkup.

Thanks for joining us for H54F! Be sure to link-up below and/or let us know how your week's been in the comments!

Follow along on GFC (click link or click button sidebar), Bloglovin' (click link or click button on sidebar), or email (click here). Also, tweet us or use #H54F and we'll retweet your post!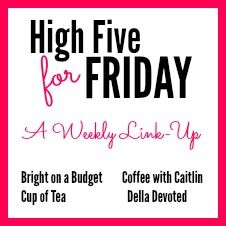 <div class="bright-on-a-budget-button" style="width: 200px; margin: 0 auto;">
<a href="https://www.brightonabudget.com" rel="nofollow">
<img src="http://i40.photobucket.com/albums/e232/coffeewithcaitlin/h54f2_zpsc7e1f4e7.jpg" alt="Bright on a Budget" width="200″ height="200″ />