TGIF, H54F-ers!!! Della at Della Devoted, Katie at Cup of Tea, and myself want to welcome you to the High Five for Friday link-up and the weekend. We made it!
This week's featured blogger is Kristina from The Kontemporary, a fashion and style blog. I love her post on Chicago and five things to do while you're there.
Now let's recap this week's highlights:
1. Chauncey and I went to a Jason Isbell concert on Friday night at the Paramount Arts Center in Ashland, Kentucky. Yes, we had a date night! The concert was awesome. I had a toothache through it (and most of the rest of the weekend), though, so that was a little distracting. I feel like turning 30 in a few months in causing my body to fall apart. As of right now, I've avoided a root canal, but it still could happen.
2. Tory Burch is having its semi-annual sale, and I scored a pair of Minnie Travel Ballet flats for $110.25. They're regularly $225 so I was happy! And I scored the matching necklace for $2.80 at Charming Charlie's sale on Wednesday night. While I was at Charming Charlie's, I also purchased a few gifts to put back in my gift closet. It was the last night for the extra 60% off sale, but now I think they have BOGO free on all sale jewelry.
3. Chauncey, Kane, and I had dinner at Rooster's one night this week. Afterwards, I went to get my nails done. I went with the white SNS nails, which evidently are a little more difficult to do. I love how they turned out! If you're in the Lexington area, check out Pro Nails off Richmond Road. Ask for Nina for SNS and Monica for pedicures. It was a nice and relaxing evening.
4. My friend Kayla got married last weekend, and had an awesome wedding at a renovated historic gym back home. The bride was beautiful and the cake was so delicious. I wish her and her husband a lifetime of happiness!
5. 3. While we were back home for the weekend, we got to spend time with family. We all got together and treated my papaw to a late Father's Day dinner. Kane got to go swimming and play with puppies. All-around fun was had:)
BONUS–OK, I have to include this Kane tidbit from last night. Kane and I were sitting on the couch watching TV when he got up to plunder around. The next thing I knew, all chaos broke loose. Kane brought me the "mean" spider that was "hiding" behind the couch. . .and by "brought me," I mean that he threw it on the blanket that was on my lap. I'm happy to report I survived, but it was touch and go.haha Yes, the spider was real, and yes, if it wasn't already dead, it is now.
ICYMI, here's this week's posts:
($50 shop credit to PinkBlush)
Thanks for joining us for H54F! Be sure to link-up below and/or let us know how your week's been in the comments!

Follow along on GFC (click link or click button sidebar), Bloglovin' (click link or click button on sidebar), or email (click here). Also, tweet us or use #H54F and we'll retweet your post!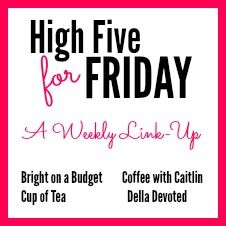 <div class="bright-on-a-budget-button" style="width: 200px; margin: 0 auto;">
<a href="https://www.brightonabudget.com" rel="nofollow">
<img src="http://i40.photobucket.com/albums/e232/coffeewithcaitlin/h54f2_zpsc7e1f4e7.jpg" alt="Bright on a Budget" width="200″ height="200″ />