TGIF, H54F-ers!!! Della at Della Devoted, Katie at Cup of Tea, and myself want to welcome you to the High Five for Friday link-up and the weekend. We made it!
This week's featured blogger is Emily from A Little Bit of Emily, a lifestyle blog. I'm really digging in the recent clothing purchases she shared on her blog. And her recipe for Mom's Homemade Chex Mix looks simple and yummy!
Now let's recap this week's highlights:
1. Last Friday night I hosted a styling workshop at White House Black Market's Lexington Green location about How to Dress for Your Body Shape. It was so fun, and H54F regular Sheryl from How to Make a Life was there! The other styling workshop is TONIGHT, at 5:30 p.m. at Francesca's Lexington Green location. Hope to see you there! It's the perfect time for a class on how to accessorize since Francesca's has BOGO 50% on jewelry!
2. Kane spent some time in eastern Kentucky, so my mom came down on Saturday to pick him up. We all went out to eat at Chuy's. Kane was clearly really excited about his food.hahah After they left, Chauncey and I headed over to some friends' house to watch UFC 200. They all spent part of the night playing Pokemon Go. Are any of you playing?
3. It's Lexington Burger Week (Warning: don't click the link. The pictures will make you hungry). Basically, 36 restaurants around town have special burgers this week for just $5! On Tuesday night, Chauncey and I had a date night downtown at JDI Tavern. Then last night we all went out with my mom, brother, and adoptive brother (one my brother's best friend) to Burger Fi. It's so nice to see everyone out and about! Ok, so I guess some people were out just for Pokemon, but a lot were out for Burger Week!
4. I drove to Richmond on Monday night and met with Katrina, the talent behind KCK Bangles. We had so much fun discussing our respective businesses (it's crazy to think of the blog as a business, but it totally is!). You can enter to win a bangle stack of 3 wire bangles here, and it's super easy to do.
5. I'm finally getting around to putting my living room together! I even picked up some new frames last night. Once I finish, I'll do a reveal.
ICYMI, here's this week's posts:
Thanks for joining us for H54F! Be sure to link-up below and/or let us know how your week's been in the comments!

Follow along on GFC (click link or click button sidebar), Bloglovin' (click link or click button on sidebar), or email (click here). Also, tweet us or use #H54F and we'll retweet your post!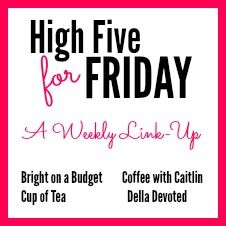 <div class="bright-on-a-budget-button" style="width: 200px; margin: 0 auto;">
<a href="https://www.brightonabudget.com" rel="nofollow">
<img src="http://i40.photobucket.com/albums/e232/coffeewithcaitlin/h54f2_zpsc7e1f4e7.jpg" alt="Bright on a Budget" width="200″ height="200″ />