TGIF, H54F-ers!!! Della at Della Devoted, Katie at Cup of Tea, and myself want to welcome you to the High Five for Friday link-up and the weekend. We made it!
This week's featured blogger is Heather from My Glittery Heart. I love love love her new book bag nook featuring shiplap! She just started co-hosting the Recipe Club linkup, which takes place on the third Wednesday of every month. Be sure to check out her Etsy shop featuring the most adorable mugs and glasses
Now let's recap this week's highlights:
1. Friday night was my styling workshop out at Francesca's, which was fun. I came away with some cute dinosaur earrings myself. Then I met my friend Sheila for dinner afterwards at Palmer's Fresh Grill. We were seated out on the patio when it started to rain, but the law students sitting next to us put up their table's umbrella and invited us to sit with them. It was a fun dinner! I totally recommend having dinner with strangers at least once in your life! Ok, except one of them was not a total stranger–by the end of dinner, we established that one used to work with Sheila but it was okay, because she didn't fire him.haha
2. We went to a birthday party for a close family friend. Kane had a blast playing outside, and it was nice to catch-up with everyone!
3. If you haven't watched Stranger Things on Netflix yet, I need you to stop reading this blog post and go start the series! I'm not a fan of anything scary, but this was so good! It's Netflix's latest original series and it's set in the 80s. Make time for it because trust me, you're going to binge-watch all 8 episodes. You're welcome.
4. We had Cold Stone Creamery after dinner one night this week, and they have a new flavor called Sugar Cookie Batter. It was delicious with sprinkles mixed in!
5. After dinner last night, we went to Target. I had an amazing haul, which you can see on Snapchat (add me: brightonabudget). And add Katie too (ktcupoftea). FYI, use the cartwheel app to take an extra 20% off of clearance clothes, shoes, and accessories!!! Kane found this dinosaur flashcards for $1! It blows my mind how many dinosaurs Kane can identify!
ICYMI, here's this week's posts:
(the sale opens to everyone today, and most items should be restocked!)
(one of my ALL-TIME fav posts + a true MUST READ)
Thanks for joining us for H54F! Be sure to link-up below and/or let us know how your week's been in the comments!

Follow along on GFC (click link or click button sidebar), Bloglovin' (click link or click button on sidebar), or email (click here). Also, tweet us or use #H54F and we'll retweet your post!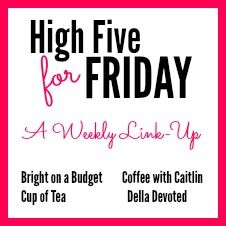 <div class="bright-on-a-budget-button" style="width: 200px; margin: 0 auto;">
<a href="https://www.brightonabudget.com" rel="nofollow">
<img src="http://i40.photobucket.com/albums/e232/coffeewithcaitlin/h54f2_zpsc7e1f4e7.jpg" alt="Bright on a Budget" width="200″ height="200″ />