This post contains affiliate links.

TGIF, H54F-ers!!! Della at Della Devoted, Katie at Cup of Tea, and myself want to welcome you to the High Five for Friday link-up and the weekend. We made it!

This week's featured blogger is Danielle from A Sprinkle of Joy. I really enjoyed her aspiring post about what to do when you don't feel good enough. She co-hosts the Idea Box linkup every Thursday. Danielle also has an Etsy shop with some cute baby and toddler items!

Now let's recap this week's highlights, but first, don't forget to enter the giveaway for a $40 Target giftcard here:

1. #Nsale purchases have begun to roll in–I'm only waiting on one package now. I'm loving this tote in the dusty blue color, as both the material and color are big for fall! It's on sale for just $31.90. Sadly, both the wallet and makeup are sold out. Stay tuned on Instagram, though, because I'm actually giving away the wallet and a Kendra Scott abalone shell necklace next week with some wonderful friends!



2, On Saturday morning, Sarah from Space, Place, and Southern Grace and I met with our local Clothes Mentor and Plato's Closet. FYI–we will be hosting two fall fashion preview styling workshops with our favorite local thrift stores! On Friday, August 12, we'll be hosting an event at Clothes Mentor from 6-8 p.m., and on Sunday, August 14, we'll be hosting an event at Plato's Closet from 6-8 p.m. Come shop with us and stock your fall wardrobe! Afterwards, I grabbed brunch with Rynetta from J. Crew Is My Fav Store. It's always nice to catch-up with her and talk shop:) We have the best talks!

3. We had a fun family day on Sunday. We stopped by Jax Burgers & Brews at Lexington Green and tried it out for the first time. The food was delicious, and I really liked the atmosphere of the restaurant as it's open to the water. Afterwards, we fed the ducks and fishes in the lake. Finally, we swung by Baskin Robbins on the way home. Chauncey and Kane were trying to catch some Pokemon after we finished our ice cream.


5. Bath and Body Works has started releasing some fall scents! The video below is actually taken from some Snapchats of mine (follow along: brightonabudget). I also went back yesterday and snagged the 2/$22.50 candle deal in Buttercream Icing and Marshmellow Pumpkin Latte.
5. My favorite outfit from this week:) I was on my way to get my nails done.
ICYMI, here's this week's posts:
Thanks for joining us for H54F! Be sure to link-up below and/or let us know how your week's been in the comments!

Follow along on GFC (click link or click button sidebar), Bloglovin' (click link or click button on sidebar), or email (click here). Also, tweet us or use #H54F and we'll retweet your post!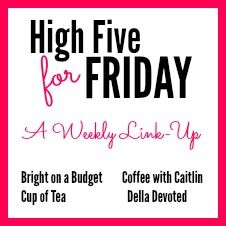 <div class="bright-on-a-budget-button" style="width: 200px; margin: 0 auto;">
<a href="https://www.brightonabudget.com" rel="nofollow">
<img src="http://i40.photobucket.com/albums/e232/coffeewithcaitlin/h54f2_zpsc7e1f4e7.jpg" alt="Bright on a Budget" width="200″ height="200″ />