TGIF, H54F-ers!!! Della at Della Devoted, Katie at Cup of Tea, and myself want to welcome you to the High Five for Friday link-up and the weekend. We made it!

This week's featured blogger is Jean Claire from Vogue Happiness, an inspirational lifestyle blog. Jean Claire is from Mississippi. She had some great insight in her post about what to say to a hurting friend. She also has an easy recipe for cucumber tomato salad.

Now, let's recap this week's highlights:

1. HARRY POTTER AND THE CURSED CHILD [insert squeal]!!!!!!!!!!!!! Ok, I was totally prepared to hate this book since it was in play form, but I absolutely loved it! It totally transported me back to my childhood and has me looking forward to Harry Potter World next month. Has anyone else read it? If so, what did you think? [WARNING: if you haven't read the book and plan on doing so, don't read the comments below just in case of spoilers!]








2.

2. The biggest highlight of the week was taking Kane to see the dinosaurs at Jurassic Quest! Now, y'all know Kane is absolutely dinosaur obsessed (and even that might be an understatement). He had such a great time at the event. By the time we grabbed a late lunch afterwards, he was absolutely exhausted and fell asleep in the booth.



3. Saturday was a big party day. We went to a birthday party for one of Kane's best friends from daycare, followed by a cookout afterwards. It was a nice day of chilling with friends.

4. Last night, I had a girls night out that was crashed by some of our guy friends. We ended up at the awesome Lockbox at 21c Hotels in downtown Lexington. The food was delicious and the atmosphere was fun. Everyone had these fancy meals, and I was perfectly content with my plain hamburger and handcut fries. The Peanut Butter Icebox Pie is to die for. . .so yummy!

5. I cleaned out some of my old makeup. I hate clutter, but I also hate to throw anything away–it's a terrible Catch 22. I felt so accomplished once it was done!


FYI:
1. I'm having an online LuLaRoe party on Monday!!! Click
here
to get in on it!!!
2. I'm co-hosting 2 events in Lex next weekend! The first is Friday, August 12, at Clothes Mentor from 6-8 p.m. The second is Sunday, August 14, at Plato's Closet from 6-8 p.m. Hope to see you local ladies there!
ICYMI, here's this week's posts:
(5 of these prints are from
here
, and you can save 30% w/ code BRIGHT30,
making the prints $3.50 each!)

Thanks for joining us for H54F! Be sure to link-up below and/or let us know how your week's been in the comments!

Follow along on GFC (click link or click button sidebar), Bloglovin' (click link or click button on sidebar), or email (click here). Also, tweet us or use #H54F and we'll retweet your post!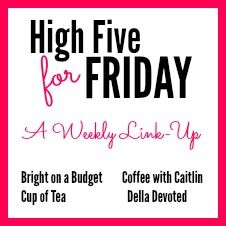 <div class="bright-on-a-budget-button" style="width: 200px; margin: 0 auto;">
<a href="https://www.brightonabudget.com" rel="nofollow">
<img src="http://i40.photobucket.com/albums/e232/coffeewithcaitlin/h54f2_zpsc7e1f4e7.jpg" alt="Bright on a Budget" width="200″ height="200″ />