This post contains affiliate links.
FYI: this week I needed to step back a little and take a little me time. I curled up in bed with a good book most nights. I'll be catching up on blog reading and commenting this weekend:)
Now, let's recap this week's highlights:
1. I was home in eastern Kentucky this past weekend, and it was nice. On Saturday, I shot blog pictures with
Della
. Following that, I took a three-hour (yes, a
three-hour
) nap and then went out to eat at Pig in a Poke with Kane, my mom, my mother-in-law, and my future sister-in-law. It was such a great, relaxing day!
2. Cue the hallelujah course–I got a new phone! My old phone had been on the fritz for several months, and if you talked to me since then, you probably know how much I hated it. Both Chauncey and I upgraded to the Samsung Galaxy Note 7, and it's true love. In addition to taking amazing pictures, it actually stays charged!haha We got such a great deal at Target–I got a guaranteed $200 trade-in on my phone (only would've traded in for a top price of $133 elsewhere), Chauncey and I each got $100 for preordering the phone, and then we got a $5 giftcard just because. So not only did I get a new phone, but I walked out with $405 worth of Target giftcards!!!!
3. The Lilly Pulitzer After Party Sale was on Monday morning and I killed it! I woke up at 3 a.m. and shopped at 6pm.com–their prices were the cheapest and I had most of my shopping out of the way before the sale even hit the Lilly website at 8 a.m. Yes, I was exhausted at work, but I was thrilled it! I've gotten in all but one package, which is showing a delivery delay:( Follow along on Snapchat to keep up with my shopping–you'll get behind the scenes peeks that you won't otherwise see! Snapchat username: brightonabudget
4. We checked out the opening day of the new Mellow Mushroom in town this week. This is Lexington's second Mellow Mushroom location, and it's got a completely different vibe than the one downtown, but I like both! The new one is very British Invasion themed. The food was delicious and the atmosphere was fun!
5.
Old Navy
currently has 40% off online with no exclusions and no coupon code needed through Sunday. I order the
long pixie pants in navy
, the
ankle-length pixie pants in evergreen
(but in a size tall, so that they're more full-length on me),
this dress in gray floral print
, and
this dress in purple print
. I ordered both dresses in a tall for additional length. Also, this is the perfect time to order pixie pants because they're usually an everyday steal, and as such, excluded from most sales! They usually run $25 when you actually catch them on sale, so this is a great deal! Don't forget to shop with
Ebates
, who are
currently offering a special 6% cashback at Old Navy
, along with a sign-up bonus!
ICYMI, here's this week's posts:
Thanks for joining us for H54F! Be sure to link-up below and/or let us know how your week's been in the comments!

Follow along on GFC (click link or click button sidebar), Bloglovin' (click link or click button on sidebar), or email (click here). Also, tweet us or use #H54F and we'll retweet your post!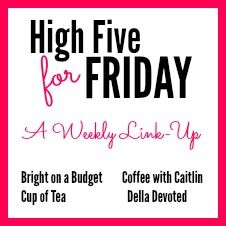 <div class="bright-on-a-budget-button" style="width: 200px; margin: 0 auto;">
<a href="https://www.brightonabudget.com" rel="nofollow">
<img src="http://i40.photobucket.com/albums/e232/coffeewithcaitlin/h54f2_zpsc7e1f4e7.jpg" alt="Bright on a Budget" width="200″ height="200″ />