2. Bath and Body Works now has ALLLLL of their pumpkin scents out! I totally stopped by yesterday to pick up a new candle, some new Wallflowers, and some new bodycare. I hate anything food-wise that has pumpkin in it (yes, even PSLs), but I love all of the pumpkin scents for fall! I recommend trying Vanilla Pumpkin Marshmallow, Berry Pumpkin Strudel, and Pumpkin Banana Bread.
3. Sunday was a family date day too. We went out and shot blog pics, then grabbed an early dinner at Joe Bologna's downtown. Sooo yummy. They have these huge breadsticks that you can dip in garlic butter that we get every time.
4. I'm trying to fit in all of my super bright outfits before I plunge into the rich fall hues. This was my favorite outfit this week! If you're not already following along on Instagram for daily outfit inspiration,
click here
to follow.
ICYMI, here's this week's posts:
Thanks for joining us for H54F! Be sure to link-up below and/or let us know how your week's been in the comments!

Follow along on GFC (click link or click button sidebar), Bloglovin' (click link or click button on sidebar), or email (click here). Also, tweet us or use #H54F and we'll retweet your post!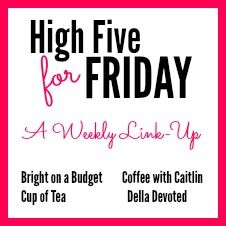 <div class="bright-on-a-budget-button" style="width: 200px; margin: 0 auto;">
<a href="https://www.brightonabudget.com" rel="nofollow">
<img src="http://i40.photobucket.com/albums/e232/coffeewithcaitlin/h54f2_zpsc7e1f4e7.jpg" alt="Bright on a Budget" width="200″ height="200″ />