TGIF, H54F-ers!!! Della at Della Devoted, Katie at Cup of Tea, and myself want to welcome you to the High Five for Friday link-up and the weekend. We made it!
This week's featured blogger is Lindsey from Brushing Our Way Through Life. Lindsey graduated from cosmetology school and is mommy to one with one on the way. Her husband is in dental school–the professional school spouse life is different for sure (as someone who has been on the opposite end). I love her recent beauty favorites, and she did this awesome post about a month of crockpot dinners.

1. Both mine and Chauncey's favorite moment from the entire trip was Kane meeting Mickey for the second time at Chef Mickey's! Guys, it was the cutest thing ever. Kane was so excited to meet characters until he actually got close to them, and then he was afraid. He ran up and hugged Mickey, though, after playing with Plato's whiskers.
2. This was both Chauncey and Kane's first trip to Disney. Kane wore his "My First Trip" button around the parks. At Magic Kingdom, one park worker saw it and gave us extra fast pass tickets. Another worker at Hollywood Studios have Kane a free Mickey ice cream when she saw his button. How sweet is that?
3. We went to Universal, which means I went to the Wizarding World of Harry Potter. This was actually my second time there, but my first time seeing the expansion. I was like a kid in a candy store!!! And for the record, get the frozen butterbeer–so delicious!
4. I made a stop by the Tory Burch outlet our first night in Orlando. I purchased my first Tory Burch handbag. Overall, I thought the prices at the outlet were decent (40% off). I also got this plaid Kate Spade wallet for like $31ish!!! I loved the plaid when it was in full price stores last year, but missed getting it on sale.
5. After we were done in Orlando, we headed to Clearwater Beach. I love hunting for seashells, but have never been able to find a big one. . .well, I finally found one!! It was a good-sized conch shell, but then we saw there was a crab in it!!!! Eeekkk!!! I about died, and Kane did too.haha We found 3 crabs in shells total. So cool!!!
ICYMI, here's this week's post. I had some awesome guest posters while I was away:
Thanks for joining us for H54F! Be sure to link-up below and/or let us know how your week's been in the comments!

Follow along on GFC (click link or click button sidebar), Bloglovin' (click link or click button on sidebar), or email (click here). Also, tweet us or use #H54F and we'll retweet your post!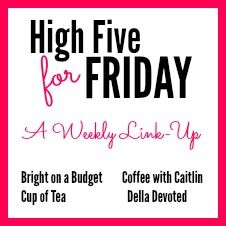 <div class="bright-on-a-budget-button" style="width: 200px; margin: 0 auto;">
<a href="https://www.brightonabudget.com" rel="nofollow">
<img src="http://i40.photobucket.com/albums/e232/coffeewithcaitlin/h54f2_zpsc7e1f4e7.jpg" alt="Bright on a Budget" width="200″ height="200″ />