TGIF, H54F-ers!!! Della at Della Devoted, Katie at Cup of Tea, and myself want to welcome you to the High Five for Friday link-up and the weekend. We made it!
We're praying for all of those in the path of Hurricane Matthew. I hope those of you who are stay safe!
This week's featured blogger is Shelby from Life as The Coats, a lifestyle blog. Shelby is a newlywed from Tennessee. She just posted her Christmas Binder with free printables! She also offers a fun snapshot into her life with her most recent currently post. And they just got a puppy.
Now let's recap this week's highlights:
1. Kane and I went out for a mother-son date on Friday night. We stopped by the jewelry store to have my rings checked for my warranties, and grabbed pizza at one of our favorite local pizza places that's in Richmond called Gillum's Sports Lounge. Then we finished up by stopping by Target on the way home. I'm happy to say Kane loves Target as much as I do!
2. On Saturday morning, we headed home to eastern Kentucky. Chauncey ended up being sick the whole weekend:( That said, Saturday and Sunday were very relaxing, as we got to just hang out with family. It was nice.
3. Monday we went out to Chuy's. Y'all know Chuy's is one of my favorites–we usually eat there once a week. It was a great way to start the week. I also wore a cute fall outfit that I just threw together.
4. I'm back on Weight Watchers. I tried to get on the WW bandwagon earlier in the year, but then I got mono and things went downhill. It's hard to do much of anything when you're sick with mono:( Wish me luck this time around!
5. I'm loving that it's finally October and all the Halloween things are out/okay to finally fully embrace. I stopped by Walmart one night this week and grabbed two pairs of Halloween leggings, some Halloween pajamas for Kane, and a new Paw Patrol Halloween book for him as well. FYI, the Halloween leggings at walmart were $4 and $6 each. And my Lularoe Halloween leggings came in, which I'll be styling for the blog soon. Yes, I now own three pairs of Halloween leggings, and I'm not mad about it.haha
ICYMI, here's this week's posts:
***FYI, my LipSense party ends TONIGHT–if you want anything, click
here
.***
Thanks for joining us for H54F! Be sure to link-up below and/or let us know how your week's been in the comments!

Follow along on GFC (click link or click button sidebar), Bloglovin' (click link or click button on sidebar), or email (click here). Also, tweet us or use #H54F and we'll retweet your post!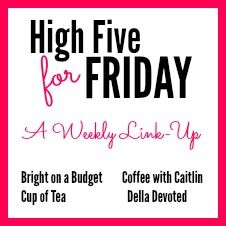 <div class="bright-on-a-budget-button" style="width: 200px; margin: 0 auto;">
<a href="https://www.brightonabudget.com" rel="nofollow">
<img src="http://i40.photobucket.com/albums/e232/coffeewithcaitlin/h54f2_zpsc7e1f4e7.jpg" alt="Bright on a Budget" width="200″ height="200″ />