This post contains affiliate links.

TGIF, H54F-ers!!! Della at Della Devoted, Katie at Cup of Tea, and myself want to welcome you to the High Five for Friday link-up and the weekend. We made it!
This week's featured blogger is Sam from Almost Picture Perfect. Sam is a mom, stepmom, and teacher. Take a glimpse into her life with her most recent The Kids Behind the Blog post. You can also gain some inspiration from her goals post.
Now let's recap this week's highlights:
1. Yesterday was Chauncey's birthday! Kane was so excited that it was his daddy's birthday. As soon as Chauncey got home, he told him happy birthday and yelled, "I got you a belt, daddy!"hahaha We need to work on keeping a secret. We also took Chauncey out to eat at Malone's and enjoyed an absolutely delicious meal.
2. Chauncey played computer games all day Saturday, so Kane and I headed out to Evans Orchard, a local pumpkin patch in Georgetown. We stayed for almost three hours and had the best time. We went down the big slides, rode the tractor ride twice, and picked out a whole little wagon full of pumpkins and flowers to bring home with us:)
3. On Sunday, I spent the day in Louisville. I started by meeting up with Nicole from What Nicole Wore for brunch at Zeggz. We had the best time chatting about blogging! She's so fun to hangout with and she has the cutest style, so be sure to check her out. Then I stopped by my friend Brittany's house and met her new baby. Sam is adorable!!! It was so nice to get to sit around and catch up.
4. On my way home from Louisville, I stopped by the outlet. Now, y'all know I love a good deal. I found this watch at the Kate Spade Outlet for just $80, while it's still on the full-price Kate Spade website for $195. Shopping win! I've decided it's going to be my 30th birthday gift to myself. And PSA. . .I grabbed this blanket scarf for $7 at the dollar spot in Target!
5. I totally purchased the Mary Kate and Ashley movie Double Double Toil & Trouble. How many of you guys remember it??? If, like me, you're not a fan of scary movies, then this is such a cute movie to add to your Halloween collection.
In other news, I have one of the Note 7 phones that have been recalled. I have used a Note phone for over three years (this was my 3rd generation of Note phone) and am vehemently opposed to having an iPhone, even though I have a Macbook and iPad. Well, yesterday, I had to order two iPhones for Chauncey and myself, because that's the only phones we could swap our Note 7s for while still keeping our annual upgrade eligibility at Verizon. I am so sad:(
ICYMI, here's this week's post:
Thanks for joining us for H54F! Be sure to link-up below and/or let us know how your week's been in the comments!

Follow along on GFC (click link or click button sidebar), Bloglovin' (click link or click button on sidebar), or email (click here). Also, tweet us or use #H54F and we'll retweet your post!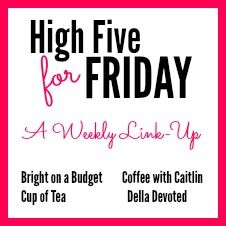 <div class="bright-on-a-budget-button" style="width: 200px; margin: 0 auto;">
<a href="https://www.brightonabudget.com" rel="nofollow">
<img src="http://i40.photobucket.com/albums/e232/coffeewithcaitlin/h54f2_zpsc7e1f4e7.jpg" alt="Bright on a Budget" width="200″ height="200″ />