TGIF, H54F-ers!!! Della at Della Devoted, Katie at Cup of Tea, and myself want to welcome you to the High Five for Friday link-up and the weekend. We made it!
This week's featured blogger is Sierra from Beautifully Candid. Sierra is a long-time H54F linker. I love her post from today about having her first key framed. I also like how she styled her utility jacket here. And you can meet her adorable family in her post about their recent fall family hike.
Disclaimer about this week's post: I have a yucky cold, I had to switch to an iPhone (which I hate), and I left my Note 7 with all my pictures on it at the office yesterday. That said, this post is what it is.lol Now let's recap this week's highlights:
1. We went out with a big group of friend's to celebrate Chauncey's birthday on Saturday night. We hit up several places downtown. We also got to stop by our friends' new bar, West Main Crafting Co., that's currently being renovated. If you follow along on Snapchat, this is the place I was showing a sneak peek of on Saturday night. It should be open in early December, so Lex friends be sure to check it out! Afterwards, we headed back to a friend's house. Chauncey and I didn't get home until like 4 a.m., but it was a blast!
2. My mom and mother-in-law came to town on Saturday as well. My mom actually turned 50 this past Monday, so we were celebrating her too! We treated her to dinner and pie at Ramsey's Diner, and she got to spend lots of time with Kane. Happy birthday, Mom!!!
3. I ordered new glasses! I was invited to check out J. Galt Eyewear, a new eyeglasses place in Lexington, and got to pick out a pair of eyeglasses. I'll be doing a [sponsored] post showcasing how truly awesome and innovative this place is just as soon as I get my glasses in!!! You know that as usually, though, all opinions are my own.
4. I won a free Carly dress from Claire-Marie's LuLaRoe VIP, which made my LLR-loving heart happy! Thanks, Claire!!!! It will be styled on the blog soon. I had been wanting to try this dress out for some time now.
5. Last night I had an appointment with the chiropractor for an adjustment and massage. It was much needed and left me feeling a little better despite this cold.
ICYMI, here's this week's posts:
1. Top 6 Fall Trends
Guest post for Musings of a Shopaholic Mama
Thanks for joining us for H54F! Be sure to link-up below and/or let us know how your week's been in the comments!

Follow along on GFC (click link or click button sidebar), Bloglovin' (click link or click button on sidebar), or email (click here). Also, tweet us or use #H54F and we'll retweet your post!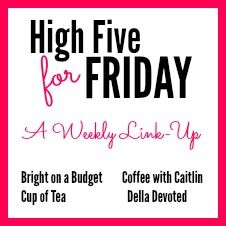 <div class="bright-on-a-budget-button" style="width: 200px; margin: 0 auto;">
<a href="https://www.brightonabudget.com" rel="nofollow">
<img src="http://i40.photobucket.com/albums/e232/coffeewithcaitlin/h54f2_zpsc7e1f4e7.jpg" alt="Bright on a Budget" width="200″ height="200″ />