TGIF, H54F-ers!!! Della at Della Devoted, Katie at Cup of Tea, and myself want to welcome you to the High Five for Friday link-up and the weekend. We made it!
This week's featured blogger is Lisa from Coast to Coast, a hospitality, style, and DIY blog. Be sure to check out her easy ghost cookies recipe. Or if you love all things pumpkin, try her perfect fall breakfast recipe. And she sells Rodan + Fields too!
FYI, today kicks off my last week in my twenties!!!! Now let's recap this week's highlights:
1. On Saturday, I drove home to eastern Kentucky. We went straight to a baby shower. Afterwards, Della and I met up to take pictures, then we took the boys to dinner at Pizza Stop. It was fun to catch up! I love how beautiful it is back home right now. The hills are painted stunning colors by the changing leaves!
2. Kane and I went to a birthday party on Friday night, followed by a joint birthday party on Sunday night. Kane had the best time at both parties, and I had fun too:) How is it, though, that kids have so much energy? One of the parties was held at a bounce house, and Kane made me wallow around on all the bouncies.
3. When we got back to Lexington on Monday night, Chauncey, Kane, and I headed out to dinner at one of our favorite restaurants, JDI. I got some yummy chicken garlic pasta dish that Chauncey had gotten previously and it was soooo good. Plus I had enough for leftovers:)
4. I ordered all the plaids from Old Navy. Seriously–all the plaids. There's two of one shirt because I reordered it to get a cheaper price:)
5. I'm collaborating with J. Galt Eyewear on some projects, and I got to pick up my new eyeglasses this week! I am in love with them! I have a full post coming in the next couple of weeks detailing my experience, but if you following along on Snapchat (brightonabudget) or watch Instagram Stories, then you got a peek at my new frames.
ICYMI, here's this week's posts:
(get a special deal on this tunic!)
Thanks for joining us for H54F! Be sure to link-up below and/or let us know how your week's been in the comments!

Follow along on GFC (click link or click button sidebar), Bloglovin' (click link or click button on sidebar), or email (click here). Also, tweet us or use #H54F and we'll retweet your post!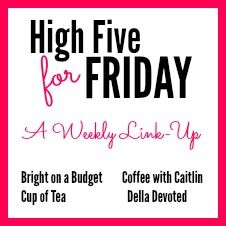 <div class="bright-on-a-budget-button" style="width: 200px; margin: 0 auto;">
<a href="https://www.brightonabudget.com" rel="nofollow">
<img src="http://i40.photobucket.com/albums/e232/coffeewithcaitlin/h54f2_zpsc7e1f4e7.jpg" alt="Bright on a Budget" width="200″ height="200″ />