TGIF, H54F-ers!!! Della at Della Devoted, Katie at Cup of Tea, and myself want to welcome you to the High Five for Friday link-up and the weekend. We made it!
Today's featured blogger is Casey from Cattails, Rabbit Trails, and Thistlefish. She has a cute fashion series called The Modest Budget. I also love this post abut the source of all your insecurities. And she also has a knitting shop called Thistlefish Knits that you can check out here.
AND TODAY IS MY 30TH BIRTHDAY!!!!! Guys, I have no idea how time has passed so fast. But I look forward to the next chapter of my life. Next week I'll be chatting about turning 30, and there will be a fun giveaway on Monday!
1. Last weekend we had the best time! It kicked out with a Halloween party at Chauncey's office on Friday night. You can check out my costume details here. I loved getting to hang out with all of our friends. Afterwards, we picked Kane up from the babysitter's and swung by the local Halloween house.
2. Saturday, we continued the Halloween fun by taking Ash Ketchum from Pokemon Trunk or Treating at a local church on Saturday night. Kane was soooo excited to dress as his favorite character!!!
3. On Sunday, we fit a lot into the day. We started out at Boyd's Orchard, a local pumpkin patch. Then we headed to Louisville for dinner at Bluegrass Burgers with Alex, one of my friends from law school. And then Alex tagged along with us when we went to the Jack O'Lantern Spectacular afterwards. I found the event when it was being shared on Facebook and knew that I had to go check it out. It was soooo cool! There were thousands of pumpkins–some were simple and some were VERY intricately carved. The Jack O' Lantern Spectacular was a fun experience.
4. Monday night, we headed out to Trick-or-Treat with our friends and their daughter, who is close in age to Kane. The kids had fun, until they were ready to head home. Kane kept running up to people's houses saying "trick or treating!"haha
5. I said goodbye to my twenties yesterday. I started my birthday celebrations early, because what else are you supposed to do?haha My co-workers bought my lunch and gave me cupcakes. Then I headed out for manis and pedis with my friend Melissa, which was very relaxing and fun. So here's to 30!!!
ICYMI, here's this week's posts:
1.
Last Minute Cat Costume
(pin it for next year!)
(never too early to grab stuff on clearance and plan for next year!)
(LuLaRoe Carly Dress)
Thanks for joining us for H54F! Be sure to link-up below and/or let us know how your week's been in the comments!

Follow along on GFC (click link or click button sidebar), Bloglovin' (click link or click button on sidebar), or email (click here). Also, tweet us or use #H54F and we'll retweet your post!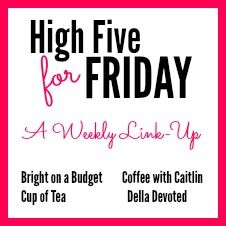 <div class="bright-on-a-budget-button" style="width: 200px; margin: 0 auto;">
<a href="https://www.brightonabudget.com" rel="nofollow">
<img src="http://i40.photobucket.com/albums/e232/coffeewithcaitlin/h54f2_zpsc7e1f4e7.jpg" alt="Bright on a Budget" width="200″ height="200″ />