TGIF, H54F-ers!!! Della at Della Devoted, Katie at Cup of Tea, and myself want to welcome you to the High Five for Friday link-up and the weekend. We made it!
This week's featured blogger is my good friend Mariah from Like Honey, a fashion and lifestyle/mommy blog. Mariah is actually from Lexington (where I live!) but she now lives in St. Louis. She's a SAHM with a killer fashion sense:) You have to check out her little ones' Halloween costumes! I also love this outfit featuring a blanket scarf and her recent tropical toddler room reveal.
First of all, THANK YOU for the sweet birthday wishes last week!!! Now let's recap this week's highlights:
1. My actual 30th birthday on Friday was wonderful! Kane surprised me with a necklace (which I'm wearing in the picture above) and a card that he made for me with his teacher's help!!! It was so precious and Kane was so excited to give them to me. Chauncey surprised me with a whole bag of goodies, including Kate Spade Keds, a Kate Spade necklace, and a ton of other things. Then they took me to dinner at the Cheesecake Factory. It was such a great evening with my boys:)
2. One of my best friends came to town on Saturday! She and I had lunch at Joe B's before heading back home to relax before my birthday party that night. My party was great–thanks to all my friends who came out to help me celebrate!
3. On Sunday, I had brunch with a couple of friends from law school and my best friend before she headed back home. Kane went with us and throughly enjoyed himself. I'm glad he's at the age where we can take him out in public without all the meltdowns (although every once in a blue moon, we still have one). I was sad to see my friend go home afterwards but so glad we got to spend the weekend together!
4. The birthday celebrations continued on Monday. I went out with a couple of close friends to have dinner at Chuy's, which is one of my favorite places to eat. Good dinner and great conversation makes for an awesome night!
5. OK, I have two new TV show additions–Suits and The Crown. Who else is watching?!
ICYMI, here's this week's posts:
ENTER TO WIN THE ITEMS BELOW!!!
Thanks for joining us for H54F! Be sure to link-up below and/or let us know how your week's been in the comments!

Follow along on GFC (click link or click button sidebar), Bloglovin' (click link or click button on sidebar), or email (click here). Also, tweet us or use #H54F and we'll retweet your post!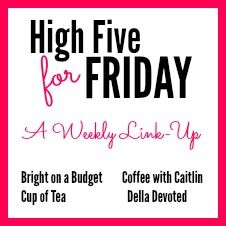 <div class="bright-on-a-budget-button" style="width: 200px; margin: 0 auto;">
<a href="https://www.brightonabudget.com" rel="nofollow">
<img src="http://i40.photobucket.com/albums/e232/coffeewithcaitlin/h54f2_zpsc7e1f4e7.jpg" alt="Bright on a Budget" width="200″ height="200″ />