TGIF, H54F-ers!!! Della at Della Devoted, Katie at Cup of Tea, and myself want to welcome you to the High Five for Friday link-up and the weekend. We made it!
Sorry this post is late. I'm typing in on a plan in route to ATL, where I have a connection to a fun destination. There's no wi-fi on the plane:( Hop on over to Instagram and/or Snapchat (brightonabudget) to check out where I'm heading to and follow along!
This week's featured blogger is Lauren from Lot 48. She's currently visiting NYC, but also shared a look back at her time in London. I love her recent post called "What I Like About Me," because I think we should all love and appreciate ourselves a little more:)
Now, let's recap this week's highlights:
1. We were back home in eastern Kentucky for two days for Thanksgiving. There's truly nothing like going home. I think that's especially true when you're from a small town. We had two delicious Thanksgiving meals at my mom and mother-in-laws house. I am so thankful every day for all of my blessings, but Thanksgiving truly gives a chance to reflect on that.
2. While I was back home, I got my hair done! There's nothing better than sitting in your stylist's chair for a few hours, chatting and being pampered. I always totally refreshed after I'm done. I've been going to the same lady (hi, Ginger!) for six or seven years. I don't trust anyone else to color my hair. And she nails it every time.
3. Nicole from What Nicole Wore popped into Lexington for lunch on Friday. We had lunch at Mod Pizza with one of the businesses we collab with, and it was nice to catch up. We usually meet up in Louisville, so it was weird seeing her in Lexington!
4. I have knocked out probably 75% of my Christmas shopping! Target had 30% off all toys on Saturday. Then I went shopping at the outlets on Sunday. There were such good deals all around!!! And I was able to score a Tory Burch wallet in my favorite color blue, in excellent condition, for $45 at Clothes Mentor Lexington as part of their pre-Black Friday sale!!!! I was also out last night when I should have been packing (oops!). If you're still shopping, be sure to check out my Black Friday posts that I've linked below!
5. God has really opened some doors for the blog lately, and I'm so thankful! Be sure to check out the funny "how to win Black Friday" video I helped film here. I also have another project in the works that I hope to share with you next week:)
ICYMI, here's this week's posts:
(pin for next year)
(omg, check out the video!)
(lots of good deals, including small businesses!)
Thanks for joining us for H54F! Be sure to link-up below and/or let us know how your week's been in the comments!

Follow along on GFC (click link or click button sidebar), Bloglovin' (click link or click button on sidebar), or email (click here). Also, tweet us or use #H54F and we'll retweet your post!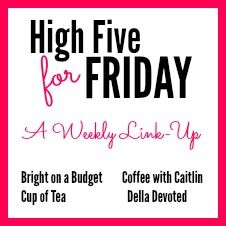 <div class="bright-on-a-budget-button" style="width: 200px; margin: 0 auto;">
<a href="https://www.brightonabudget.com" rel="nofollow">
<img src="http://i40.photobucket.com/albums/e232/coffeewithcaitlin/h54f2_zpsc7e1f4e7.jpg" alt="Bright on a Budget" width="200″ height="200″ />