TGIF, H54F-ers!!! Della at Della Devoted, Katie at Cup of Tea, and myself want to welcome you to the High Five for Friday link-up and the weekend. We made it!
This week's featured blogger is Catherine from A Short Blonde. She recently shared a great outfit if featuring a military jacket. If you're purchasing gifts for a baby for Christmas, be sure to check out her holiday wish list for baby. And she has a fun travel recap too!
Now let's recap this week's highlights:
1. Chauncey and I flew out to Vegas on Friday morning with two of our friends, (which was a surprise–we weren't expecting them!) and met a bunch of other friends who were already in Vegas. I went out shopping the night before, and then sat up packing. Long story short, I went to the airport with two hours and sleep, and got another hour of sleep on the plane. But on the plus side, I got to check one off the bucket list because I saw the Grand Canyon from the plane!!!! I was one happy girl:) We stayed at the Mandarin Oriental. It was my first time staying there, and it was fabulous!
2. On Saturday, we went to see the show O by Cirque du Soleil at the Bellagio. OMG that show is amazing! It features a huge water tank, and has tons of diving in addition to the typical acrobatic stunts. Afterwards, we had dinner at Harvest. It was such a fun night!
3. Sunday night was our last night in Vegas. Chauncey and I split up for dinner–I went to Scarpetta with friends. The pasta was delicious. And we could see the Bellagio fountains from our seat at dinner.
4. I was soooo excited to see Kane when we got back to town!!! I love traveling, and know that it's essential for Chauncey and I to have time together, but it's always hard to leave Kane. My brother and his fiance brought Kane back to Lex. We all had lunch, and Kane sat right on top of me the entire time. It makes my heart so full.
5. Chauncey, Kane, and I had dinner at Chuy's last night. After a busy week, it was nice to relax with my little family at one of our favorite dinner places (ok, maybe it's MY favorite dinner place).
BONUS–in my haste to write last week's H54F post, I totally forgot to mention that I had lunch with Lindsay from Bourbon, Lipstick, and Stilettos! We had a long lunch full of good conversation:)
ICYMI, here's this week's posts:
Thanks for joining us for H54F! Be sure to link-up below and/or let us know how your week's been in the comments!

Follow along on GFC (click link or click button sidebar), Bloglovin' (click link or click button on sidebar), or email (click here). Also, tweet us or use #H54F and we'll retweet your post!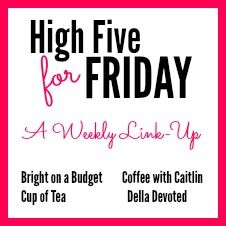 <div class="bright-on-a-budget-button" style="width: 200px; margin: 0 auto;">
<a href="https://www.brightonabudget.com" rel="nofollow">
<img src="http://i40.photobucket.com/albums/e232/coffeewithcaitlin/h54f2_zpsc7e1f4e7.jpg" alt="Bright on a Budget" width="200″ height="200″ />