TGIF, H54F-ers!!! Della at Della Devoted, Katie at Cup of Tea, and myself want to welcome you to the High Five for Friday link-up and the weekend. We made it!
Now let's recap this week's highlights:
1. On Friday night, Kane and I met up with my cousin and her kids at Chick-fil-a. After eating, we let the kids run around in the play place. It was so nice to see them, and Kane had so much fun.
2. Did anyone else hit up the Bath & Body Works' $8.50 candle sale last weekend??? I ended up with four candles. The store I was at was a madhouse. It looked like Black Friday in there! My favorite candles right now are Vanilla Snowflake and Peppermint Marshmallow!
3. We finally got our Christmas tree decorated! On Saturday night, we started a new family tradition. Kane wanted spaghetti, so I grabbed some takeout on the way home from the candle sale. We baked chocolate chip cookies (also at Kane's request) and sugar cookies. Then, as we were decorating the tree, we watched the Curious George Christmas movie on Netflix. I love creating memories like this with my little family.
4. The Elf on the Shelf arrived at our house on Sunday. The night before, we read the book on the elf. I asked Kane if he thought Santa would send him an elf. He said he didn't want one, that he wanted Santa to bring him toys, not an elf!haha But he was really excited when he woke up and found his elf under the tree. He named him Bug.
5. On Sunday, we continued to Christmas fun and went to Hillenmeyer's Christmas Shop, a Christmas tradition we began last year. You can read all about it here. And I also headed out to a bloggers brunch with Whitney from
Fabulous in Fayette
. Whitney and I met up with other local bloggers and Instagrammers at County Club. Honestly, I wasn't a huge fan of the food, but the company was good!
ICYMI, here's this week's posts:
Thanks for joining us for H54F! Be sure to link-up below and/or let us know how your week's been in the comments!

Follow along on GFC (click link or click button sidebar), Bloglovin' (click link or click button on sidebar), or email (click here). Also, tweet us or use #H54F and we'll retweet your post!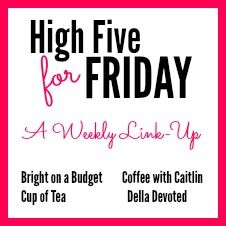 <div class="bright-on-a-budget-button" style="width: 200px; margin: 0 auto;">
<a href="https://www.brightonabudget.com" rel="nofollow">
<img src="http://i40.photobucket.com/albums/e232/coffeewithcaitlin/h54f2_zpsc7e1f4e7.jpg" alt="Bright on a Budget" width="200″ height="200″ />