TGIF, H54F-ers!!! Della at Della Devoted, Katie at Cup of Tea, and myself want to welcome you to the High Five for Friday link-up and the weekend. We made it!
This week's featured blogger is Jess from Just Jess, a lifestyle blog. Jess lives in North Carolina. I love her little inspirational Sunday Sayings post. She also has an ethical fashion gift guide that has some really good ideas!!!
Now, let's recap this week's highlights:

1. I got so much done on Saturday! I woke up early and folded a literal mountain of laundry while watching The Crown on Netflix. I sorted through Christmas gifts. Kane and I ran errands too before heading home to eastern Kentucky, which included dropping off my old Note 7 in its fireproof box at UPS (RIP Note 7). It felt AMAZING to check all those things off of my to-do list! I'm working on being more organized across the board:)
2. Since I was back home, I got to catch up with a couple of friends. Della and I shot blog pictures and chatted for an hour on Sunday, and afterwards I headed to my friend Beth's house for a couple of hours. It sucks to live so far from good friends. I'm always thankful for the time we do get to spend together.
3. Kane, Chauncey, and I had dinner out at Chuy's one night. I love sitting down to dinner with my family. It's always nice to chat about our day over good food. Afterwards, I headed to Sephora since Tuesday was the last day to use the Sephora Beauty Insider coupon ($15 off $50). I was excited to get some new makeup, but to be honest, the in-store experience was severely lacking this time:(
4. On Wednesday night, I sat down with blog stuff. I worked on firming up my blog goals for 2017, and worked through more of the Pinterest class I'm taking. It was nice to take several hours and knock out things I'd been putting off. Boom–more things off of the to-do list!!! I have some stylistic changes coming to the blog next year, but I'm trying to decide exactly what I want to do.
5. Last night, I stopped by a trunk show at Southern Belle Glitz. They have the prettiest jewelry! Then I met Sheryl of How to Make a Life for dinner at Saul Good. She's the best:) I love our conversations.
ICYMI, here's this week's posts:
Thanks for joining us for H54F! Be sure to link-up below and/or let us know how your week's been in the comments!

Follow along on GFC (click link or click button sidebar), Bloglovin' (click link or click button on sidebar), or email (click here). Also, tweet us or use #H54F and we'll retweet your post!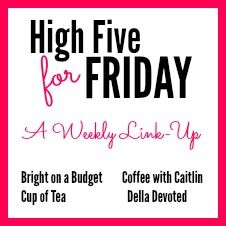 <div class="bright-on-a-budget-button" style="width: 200px; margin: 0 auto;">
<a href="https://www.brightonabudget.com" rel="nofollow">
<img src="http://i40.photobucket.com/albums/e232/coffeewithcaitlin/h54f2_zpsc7e1f4e7.jpg" alt="Bright on a Budget" width="200″ height="200″ />