This post contains affiliate links.
TGIF, H54F-ers!!! Della at
Della Devoted
, Katie at
Cup of Tea
, and myself want to welcome you to the High Five for Friday link-up and the weekend. We made it!
Now let's recap this week's highlights:

1. 'Tis the season for Christmas parties! Chauncey and I went to Christmas parties on both Friday and Saturday night. We never get two date nights in a row unless we're on vacation, so it was fun! We saw Santa on Sunday, then I went to a Christmas party by myself on Sunday and caught up with several good friends from law school.
2. I wrapped gifts for 2.5 hours on Wednesday night, and sat up wayyyy too late. But I was thankful to make a huge dent and get all of Kane's presents wrapped. I watched Suits while I was wrapped. I'm on Season 6 and want to get caught up before it resume next month.
3. Even though I don't have time to read this week, I found a new author and can't put her books down–
Katy Evans
. I've read Mr. President, Ladies Man, and Womanizer. All are really good if you like trashy romance novels!
5. Kane watched the love action version of The Grinch and loved it!!! I'm such a sucker for Christmas movies, and it's one of my favorites too! I'm really looking forward to this weekend, but I'm going to be sad when all the fun Christmas stuff of over until next year:(
I hope each and everyone one of you have a Merry Christmas and Happy Holidays!!! You can follow along this weekend on Instagram and Snapchat (@brightonabudget).


ICYMI, here's this week's post:
Thanks for joining us for H54F! Be sure to link-up below and/or let us know how your week's been in the comments!
Follow along on GFC (click link or click button sidebar), Bloglovin' (click link or click button on sidebar), or email (click here). Also, tweet us or use #H54F and we'll retweet your post!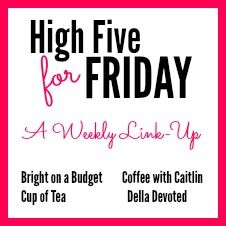 <div class="bright-on-a-budget-button" style="width: 200px; margin: 0 auto;">
<a href="https://www.brightonabudget.com" rel="nofollow">
<img src="http://i40.photobucket.com/albums/e232/coffeewithcaitlin/h54f2_zpsc7e1f4e7.jpg" alt="Bright on a Budget" width="200″ height="200″ />