TGIF, H54F-ers!!! Della at
Della Devoted
, Katie at
Cup of Tea
, and myself want to welcome you to the High Five for Friday link-up and the weekend. We made it!
This week's featured blogger is Trista from
The Classy Chaos
, a lifestyle blog. Trista is an accountant, who has two boys and lives on a farm with them and her husband. Get to know her better by checking out her
2016 year in review post
. Also, check out her
Erin Condren Life Planner
review–I just got one myself and they are so cool!
Now let's recap this week's highlights:

1. We kicked off the Christmas festivities on Friday. I had the day off work so I ran tons of errands–Ulta x 2, Walmart, Target, daycare x 3, and blog shoots x 2. In the afternoon,
Kane's class had a little party and sang a song. Then we headed home to have our little fam's Christmas. We ordered pizza, watched Home Alone, and then opened gifts. We travel for Christmas, and have found this tradition to be the calm before the storm. We actually have time for Kane to play with his gifts and enjoy the moment. Adore we head home.
2. On the morning of Christmas Eve, we headed home to eastern Kentucky. Per our tradition, we stopped at Chick-fil-a for breakfast on the way home. I was able to get in a quick nap before we heading to our family celebrations at Chauncey's grandma's and my parents' houses. Kane was completely exhausted from opening gifts.
3. Santa came on Christmas morning! Kane was so excited to find Santa's sack with the three gifts that were on his list, along with his stocking. Santa left a note, though, explaining that his workshop only had GREEN Nerf guns instead of blue ones.haha Then we opened gifts at my mother-in-law's house. Kane was soooo much fun this year! And later that evening, I spent several hours at my friend Beth's house.
4. I was able to relax on Tuesday night and get my nails done:) I always do SNS. Would you believe I got my last ones done Thanksgiving week and they lasted until this Tuesday?! Ok, they were lifting, but they still looked good! I had just been too busy to get them done with the holidays. In case you're wondering, I got Kiara Sky 519, which is a holographic glitter. They are PERFECT for NYE!!!
5. After being in the car and lugging around gifts, I was in need of a visit to the chiropractor. I was able to get in for an adjustment yesterday, which I was super happy about it. Imagine how happy I was when I got there and found out they could fit me in for a message!!! Yay!!!!
I wish each and every one of you a very Happy New Year's!!!!
In case you missed it, here's this week's posts:
(everything on MAJOR sale!)
Thanks for joining us for H54F! Be sure to link-up below and/or let us know how your week's been in the comments!
Follow along on GFC (click link or click button sidebar), Bloglovin' (click link or click button on sidebar), or email (click here). Also, tweet us or use #H54F and we'll retweet your post!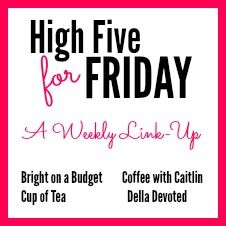 <div class="bright-on-a-budget-button" style="width: 200px; margin: 0 auto;">
<a href="https://www.brightonabudget.com" rel="nofollow">
<img src="http://i40.photobucket.com/albums/e232/coffeewithcaitlin/h54f2_zpsc7e1f4e7.jpg" alt="Bright on a Budget" width="200″ height="200″ />