TGIF, H54F-ers!!! Della at Della Devoted, Katie at Cup of Tea, and myself want to welcome you to the High Five for Friday link-up and the weekend. We made it!
This week's featured blogger is Shelly from The Queen in Between, a life and style blog. Shelly is a blogging buddy of mine, and I love her blog! You can jump right in and get to know her with this post giving an introduction about herself and her favorite life, travel, and style posts of 2016. She also kills it in the style department, and I love this outfit here! If you're on Snapchat, give her a follow (queeninbetween1).
Now let's recap this week's highlights:
1. On New Year's Eve, I started the day by going to an engagement party for a friend who I hadn't seen in forever. Then I ran errands before we went to dinner at The Cheesecake Factory–sooo yummy! I'm become addicted to their 30th Anniversary cheesecake, and Kane has too. I wanted to eat one last really good meal before getting on the diet train. We ended the evening by watching the ball drop and I got kisses from my boys at midnight:)
2. OK, I kicked New Year's Day off with a little shopping at Dillard's New Year's Day sale. They had an extra 50% off of all clearance–such good deals! I also shot two blog posts and had dinner at Joe B's with Chauncey and Kane. If nothing else, we ate well last weekend.haha
3. Kane and I went over to some good friends' house on Wednesday. It's always nice to catch up, and Kane was so excited to go to his friend Peyton's house.
4. We finally got snow yesterday!!!! It looks so pretty outside with everything covered in white. I'm like a kid when it comes to snow–I LOVE IT!
5. It's been a BIG blogging week!!! I was FINALLY accepted to the RewardStyle/LIKEtoKNOW.it platform. This means that you can now shop my everyday looks that I post on Instagram–just sign up for LIKEtoKNOW.it, and then like my pictures on Instagram. You have the option to receive the details via email or by just signing into your LIKEtoKNOW.it.
ICYMI, here's this week's posts:
2. How I Style It: Winter Blues
Thanks for joining us for H54F! Be sure to link-up below and/or let us know how your week's been in the comments!
Follow along on GFC (click link or click button sidebar), Bloglovin' (click link or click button on sidebar), or email (click here). Also, tweet us or use #H54F and we'll retweet your post!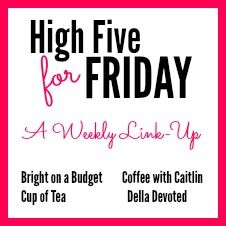 <div class="bright-on-a-budget-button" style="width: 200px; margin: 0 auto;">
<a href="https://www.brightonabudget.com" rel="nofollow">
<img src="http://i40.photobucket.com/albums/e232/coffeewithcaitlin/h54f2_zpsc7e1f4e7.jpg" alt="Bright on a Budget" width="200″ height="200″ />