TGIF, H54F-ers!!! Della at Della Devoted, Katie at Cup of Tea, and myself want to welcome you to the High Five for Friday link-up and the weekend. We made it!
This week's featured blogger is Amanda from Cupcake N Dreams is a lifestyle blog that also has fun travel posts. Her post about a weekend getaway to Geneva, Switzerland really gets my travel bug to itching. And her list of must-have travel essentials is spot-on!
Now, let's recap this week's highlights:
1. Chauncey and I celebrated our 14 year dating anniversary! Other than him leaving all of my clothes behind in Lexington, it went pretty well.haha We actually headed home that morning and ended up having dinner at one of my favorite restaurants back home. It was a cold night and we were seated right by the fire!
2. Kane got to play in snow and loved it! He even took his dinosaurs out to play in it. We threw some snowballs too. I absolutely adore the picture of him above that my mom took.
3. When we got back to Lexington on Sunday, we had to run out and shoot blog pics. Afterwards, we grabbed dinner at Goodfellas Distillery. We love Goodfellas Pizza, and they just opened a restaurant and bar in the Distillery District here in Lexington. The atmosphere of the new place is stellar!
4. I survived Week 1 of Weight Watchers.
5. I tackled a huge pile of clean laundry and got it all hung up or folder. I felt like super woman by the time I was finished. Laundry is such a necessary evil.
Also, I'd appreciate your prayers for Kane. Kane has to have eye surgery on his good eye in the new few months–the muscle is pulling that eye up and causing major vision problems. In preparation for surgery, Kane will be patching the good eye for 2 hours per day until his surgery to try to build strength in the other eye. If you've had any experience with patching, I'd love to hear about your experience and any other tips or tricks you may have!

And I'm having an online LipSense party through tomorrow! You can join in the fun here and find out what it's all about!!! Warning–it's pretty amazing:)
ICYMI, here's this week's posts:
Thanks for joining us for H54F! Be sure to link-up below and/or let us know how your week's been in the comments!
Follow along on GFC (click link or click button sidebar), Bloglovin' (click link or click button on sidebar), or email (click here). Also, tweet us or use #H54F and we'll retweet your post!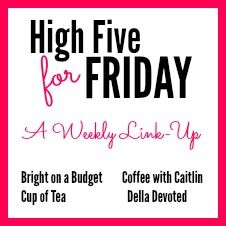 <div class="bright-on-a-budget-button" style="width: 200px; margin: 0 auto;">
<a href="https://www.brightonabudget.com" rel="nofollow">
<img src="http://i40.photobucket.com/albums/e232/coffeewithcaitlin/h54f2_zpsc7e1f4e7.jpg" alt="Bright on a Budget" width="200″ height="200″ />