TGIF, H54F-ers!!! Della at Della Devoted, Katie at Cup of Tea, and myself want to welcome you to the High Five for Friday link-up and the weekend. We made it!
This week's featured blogger is Lindsay from Bourbon, Lipstick, and Stilettos (yes, she's clearly a fan of the serial comma like me). Lindsay is awesome! She's from Kentucky–we've actually had lunch together and she's just as cool in real life as she seems on her blog! Her full-time job is as a technical writer. I love her most recent post about what to do instead of arguing on Facebook. And she has some awesome suggestions for lipsticks for Valentine's Day!

Now let's recap this week's highlights:
1. Y'all know my love for Target knows no bounds. So I was ecstatic when they not only started following me on Twitter but also featured me in their Awesome Shop! You can check it out here!
2. I'm down to pre-Vegas weight!!! Yay! Why is it soo much harder to lose weight as you get older?! I thought I had at least another 5 years before hitting that wall. . . . #wrongagain.
3. Kane and I had a mother-son date night on Friday night. We headed to the Norton Center in Danville, Kentucky to see Dinosaur Zoo Live! Kane absolutely adored it! The Norton Center did such a great job with the reception beforehand. They had homemade dinosaur cookies with sprinkles, bags of Cadsbury eggs that were labeled as dinosaur eggs, and even a dinosaur dig where you could dig in the sand to find dinosaur fossils. Kane was in dino-lover heaven! He enjoyed the show, and afterwards, he got to pet the baby dinosaurs and hold a "t-rex tooth." I loved getting to spend the evening with him!!!
Psst– If you like the outfit I'm wearing, you can actually shop it! Click here and scroll to the picture withe purple tee and white cardigan. My earrings are less than $10 and come in several colors! Similar shoes are linked in the picture of me in a black and white striped peplum top and leopard print cardigan.
4. I've been on a cleaning/organizing/purging kick this week. Brace yourself–my closet is thisclose to being CLEAN!!! I feel so relieved to have my closet organized, with my clothes either on hangers or folded. I've used some cheap organizing tools–would y'all be interested in a closet post to see how I'm organizing things without an expensive closet system? Also, once I'm done, my purged clothing will be headed to Poshmark!
5. On Saturday evening, Chauncey, Kane, and I headed out to Mi Mexico to celebrate the birthday of one of my best friends, Alyssa. Her and her husband have a little boy that's about a year younger than Kane, and those two had the best time playing!!! It was so nice to see our friends, and then I headed to some other friends' housewarming party afterwards.
BONUS–So yesterday, I was in line at Smashing Tomato and there was an older gentleman in front of me who was having a little difficulty ordering (I think he was having a hard time hearing the employee). Anyways, I helped walk him through everything, and he insisted on paying for my lunch! How sweet is that?! So, I wanted to keep it going and paid for the lady's lunch who was behind me. And before I left line, she whispered that she was going to do the same for the guy behind her! It was just such a blessing to be a part of all of this, and really made my day!
ICYMI, here's this week's posts:
Sorry this week's posts were one short. I needed to take a blog vacation day, but I'll be ramping up again next week! Thanks for understanding and being THE BEST readers ever!
Thanks for joining us for H54F! Be sure to link-up below and/or let us know how your week's been in the comments!
Follow along on GFC (click link or click button sidebar), Bloglovin' (click link or click button on sidebar), or email (click here). Also, tweet us or use #H54F and we'll retweet your post!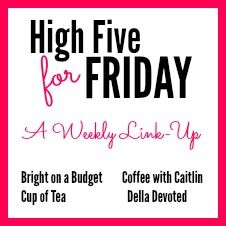 <div class="bright-on-a-budget-button" style="width: 200px; margin: 0 auto;">
<a href="https://www.brightonabudget.com" rel="nofollow">
<img src="http://i40.photobucket.com/albums/e232/coffeewithcaitlin/h54f2_zpsc7e1f4e7.jpg" alt="Bright on a Budget" width="200″ height="200″ />