This post contains affiliate links.

TGIF, H54F-ers!!! Della at Della Devoted, Katie at Cup of Tea, and myself want to welcome you to the High Five for Friday link-up and the weekend. We made it!
This week's featured blogger is Coletta from Coletta's Kitchen Sink, a lifestyle blog. Coletta is a stay-at-home mom who is a Steelers fan (LET'S GO STEELERS!!!). Catch her latest book review here. I also love her quick bible verse studies. You can also follow along on her weight loss journey.
Now let's recap this week's highlights:

1. It was a good mail week!!! Rebecca Minkoff was having an amazing sale, and I snagged two pairs of these cute flats that come in four designs. Oh, and what about this Purple Peridot necklace?!
2. On Saturday, I met my friend Jacque at a little coffee shop and we spent a good hour just catching up and chatting. I haven't seen her in forever, so it was awesome!!!
3. Kane's patching is going well! He worked up to two hours per night in three days. He even patched when we went on a Target adventure (which was a good distraction). As a reward, Kane picked out a new dinosaur. In case you're wondering, Kane will tell you that the newest addition is a taborsaurus that's a meat eater and it eats other dinosaurs.haha
4. My friend Melissa and I had lunch at Chuy's on Sunday. She's getting married, and there was definitely some wedding talk:) Good food and good conversation with good company!
5. I've been working and planning this week on some big changes coming to the blog. I have made the decision to migrate from Blogger to WordPress. Along with that will be a site redesign and logo redesign. It makes me sad to leave Blogger, because I love the platform, but I've taken design things as far as I can go. These changes won't be happening overnight, but I'm excited to see them come about now that I've made my peace with the switch.
ICYMI, here's this week's posts:
Thanks for joining us for H54F! Be sure to link-up below and/or let us know how your week's been in the comments!
Follow along on GFC (click link or click button sidebar), Bloglovin' (click link or click button on sidebar), or email (click here). Also, tweet us or use #H54F and we'll retweet your post!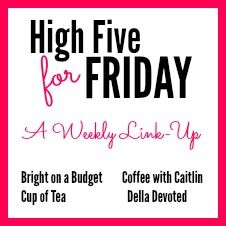 <div class="bright-on-a-budget-button" style="width: 200px; margin: 0 auto;">
<a href="https://www.brightonabudget.com" rel="nofollow">
<img src="http://i40.photobucket.com/albums/e232/coffeewithcaitlin/h54f2_zpsc7e1f4e7.jpg" alt="Bright on a Budget" width="200″ height="200″ />