TGIF, H54F-ers!!! Della at Della Devoted, Katie at Cup of Tea, and myself want to welcome you to the High Five for Friday link-up and the weekend. We made it!
This week's featured blogger is Brenda from Chatting Over Chocolate, a lifestyle/Disney blog. Brenda is a longtime H54F regular and such a sweet friend! She is such a ray of sunshine:) Brenda gives trip reports of her visits to the parks and surrounding areas. And this year, she's doing throwback posts from earlier in her blogging journey, like this one called, "Thank God for Dirty Dishes."
Now let's recap this week's highlights:
1. We finally got a little bit of snow! As soon as I opened the garage door, Kane darted out to go run around in it. He was running around like crazy, trying to catch snowflakes. And it's a good thing he did, because it was all melted by the time we got home that evening:(
2. On Saturday, we shot blog pictures and then grabbed dinner at Malone's. Malone's is one of my favorite places to eat, and if you're even in Lexington, you should try it out. Their food is utterly delicious.
3. Daycare had a storytime night on Monday evening. Kane had such a great time. The kids went from room-to-room, with each room having a different story and accompanying activity.
4. As most of you know, I went to law school at UK Law. As part of the new Heyburn Initiative, they had Chief Justice Roberts from SCOTUS to speak on Wednesday. I was lucky enough to get to go and it was amazing! He was entertaining–he had all the jokes. This makes the fourth SCOTUS justice I've had the opportunity to hear speak. I love that I live in a college town where events like this happen.
5. Chauncey and I just finished Season 1 of Westworld last night. It's so interesting!!!! Have any of you watched it? If so, what do you think? I am more of a fan than Chauncey. There's a detail that Chauncey got hung up on that he had a hard time getting over (which I thought was silly, because the storyline is set a certain way for a reason).
ICYMI, here's this week's posts:
Thanks for joining us for H54F! Be sure to link-up below and/or let us know how your week's been in the comments!
Follow along on GFC (click link or click button sidebar), Bloglovin' (click link or click button on sidebar), or email (click here). Also, tweet us or use #H54F and we'll retweet your post!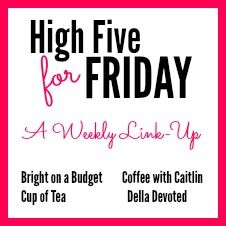 <div class="bright-on-a-budget-button" style="width: 200px; margin: 0 auto;">
<a href="https://www.brightonabudget.com" rel="nofollow">
<img src="http://i40.photobucket.com/albums/e232/coffeewithcaitlin/h54f2_zpsc7e1f4e7.jpg" alt="Bright on a Budget" width="200″ height="200″ />