TGIF, H54F-ers!!! Della at Della Devoted, Katie at Cup of Tea, and myself want to welcome you to the High Five for Friday link-up and the weekend. We made it!
This week's featured blogger is Tara from Michael and Tara, a lifestyle blog. She's a wife, mom to several little girls, and a photographer. Tara actually has a birthday this week, so happy birthday!!! She has some awesome mantras for this year. I'm jealous of their first snow of the year (Snow, if you're reading this, please come to KY soon).
Now let's recap this week's highlights:
1. Kane and I headed back to eastern Kentucky last weekend. There's just something about going home that's good for the soul. I loved getting to see my family and relaxing. I also saw Della, which is always fun!
2. Can we talk about how Lady Gaga killed it at the Super Bowl?! Not only was did she deliver an amazing performance, but she was stunning in her outfits! I love the fact that she didn't feel like she had to be super toned to wear them (which is totally while I rock a bikini every summer). And I loved her response to all the bodyshamers!!!
3. On Tuesday, I grabbed lunch with my friend Laurel from law school. The only thing I miss about law school is getting to see my friends every day. Law school is such a miserable experience, so you forge some amazing friendships to make it through:)
4. It was a good mail week! Don't you just love when a flood of packages arrive? I received my items from Charming Charlie that I styled on the blog this week, my items from the new Sugarfix item at Target, and a LuLaRoe top I won.
5. I actually have all of my Valentine's Day shopping done, even down to the cards! I'm always so last minute pulling things together, so I'm excited to have my act together for once.hahaha
ICYMI, here's this week's posts:
One of my all-time favorite outfits on the blog!
Giveaway includes Kate Spade wristlet, Kate Spade earrings, $25 Sephora giftcard, and a Betsey Johnson scarf!
Thanks for joining us for H54F! Be sure to link-up below and/or let us know how your week's been in the comments!
Follow along on GFC (click link or click button sidebar), Bloglovin' (click link or click button on sidebar), or email (click here). Also, tweet us or use #H54F and we'll retweet your post!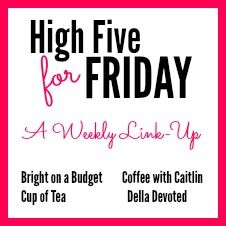 <div class="bright-on-a-budget-button" style="width: 200px; margin: 0 auto;">
<a href="https://www.brightonabudget.com" rel="nofollow">
<img src="http://i40.photobucket.com/albums/e232/coffeewithcaitlin/h54f2_zpsc7e1f4e7.jpg" alt="Bright on a Budget" width="200″ height="200″ />