This post contains affiliate links.
TGIF, H54F-ers!!! Della at Della Devoted, Katie at Cup of Tea, and myself want to welcome you to the High Five for Friday link-up and the weekend. We made it!
This week's featured blogger is Sarah from Loving Little Dixie. Sarah is a mom of 3 and married to a general contractor. Sarah lives in a small town in Oklahoma. They're currently working on renovating a farmhouse. I also love her recent post on whether you still love your husband.

Now let's recap this week's highlights:
1. Kane dropped my mom's cell phone in the toilet (no, this is NOT the highlight). While I am a pro at baptizing phones, none of my tricks worked on reviving my mom's phone. After 48 hours in kitty litter, it still wouldn't work. It was also getting hot if you plugged it in, but the screen wouldn't come on. And while she has insurance, her phone hadn't been backing up, meaning she would lose all of her pictures. So I dropped it off at Lexington Cell Phone Repair. They have a liquid damage repair service that's only $25. After describing what had happened, they thought my mom's phone was a goner, but they were able to fix it!!! Definitely check them out if you're in the Central Kentucky area.
2. Chauncey and I had our Valentine's date on Saturday. Kane went to hang out at his friends' house with a babysitter while we went out. First, we went to dinner at Ted's Montana Grill, and then we headed to the movies to watch Fifty Shades Darker. The movie was so good! Chauncey only slept through a little bit of it!haha
3. On Tuesday, we had a family Valentine's date. We all went out to dinner at Roosters (nice and romantic, right?haha). Afterwards, we exchanged gifts. Kane was happy with his dinosaur books and new Pokemon. We got Chauncey a watch he had his eye on (highly recommend–affordable but great quality) along with a tee that says "Bourbon is my spirit animal." Chauncey and Kane got me a necklace from Jared's, a new ring from Shop Wrenn, flowers, and chocolate. Those two are keepers, that's for sure.
4. Last night I went out to dinner with another local Instagrammer at Lockbox. It was nice to have a girls night and meet someone I've "known" for some time!!
5. I love a good thrift find. I was able to nab a Tory Burch Small York Tote in pink for about half the retail price off of a blogger on Instagram! Eeeeek!!! And it should be here today. I can't wait!
ICYMI, here's this week's posts:
Thanks for joining us for H54F! Be sure to link-up below and/or let us know how your week's been in the comments!
Follow along on GFC (click link or click button sidebar), Bloglovin' (click link or click button on sidebar), or email (click here). Also, tweet us or use #H54F and we'll retweet your post!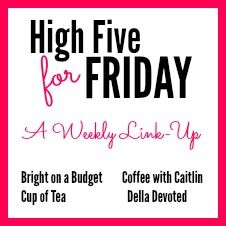 <div class="bright-on-a-budget-button" style="width: 200px; margin: 0 auto;">
<a href="https://www.brightonabudget.com" rel="nofollow">
<img src="http://i40.photobucket.com/albums/e232/coffeewithcaitlin/h54f2_zpsc7e1f4e7.jpg" alt="Bright on a Budget" width="200″ height="200″ />