This post contains affiliate links.
TGIF, H54F-ers!!! Della at Della Devoted, Katie at Cup of Tea, and myself want to welcome you to the High Five for Friday link-up and the weekend. We made it!
This week's featured blogger is Candice from She's Leaning In. Candice is a Minnesota girl living in Southern California. She works in project management for a hospital. For new moms, I love her series on tackling the baby registry. And she shared her recent Rocksbox jewelry here–I love the Rocksbox service and it's always fun looking at what other people get!
You can shop this outfit
here
.
Now let's recap this week's highlights:
1. Chauncey was off work on Friday and Monday, so we grabbed lunch at Malone's on Friday. We used to work on the same side of town and would grab lunch all the time. Now we work on opposite sides of town and we rarely get to grab lunch. It was nice to have a little date!
2. We watching the Lego Movie on Saturday, and Kane was in love! We had avoided Legos up to this point, but I went out on Sunday and bought him a Legos Junior kit. I put all of it together and it was all torn apart by last night.haha
3. I read two new book releases this week–Roman by Sawyer Bennett and Royally Matched by Emma Chase. I recommend them both if you like a good romance read!
4. Um, is anyone else terrible at losing things? This week I lost my NEW favorite sunglasses, a set of earrings, and a necklace. I really have to think back to the last time I was wearing them and think back through my thoughts of what I was doing that day. Anyways, I located the Sunglasses on Wednesday and the jewelry last night! I was relieved!
5. One of my friends was in town to take the bar exam this week, and we were able to grab dinner. It's always nice to have a girls night and catchup!
ICYMI, here's this week's posts:
Thanks for joining us for H54F! Be sure to link-up below and/or let us know how your week's been in the comments!
Follow along on GFC (click link or click button sidebar), Bloglovin' (click link or click button on sidebar), or email (click here). Also, tweet us or use #H54F and we'll retweet your post!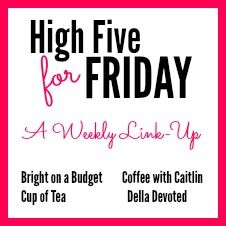 <div class="bright-on-a-budget-button" style="width: 200px; margin: 0 auto;">
<a href="https://www.brightonabudget.com" rel="nofollow">
<img src="http://i40.photobucket.com/albums/e232/coffeewithcaitlin/h54f2_zpsc7e1f4e7.jpg" alt="Bright on a Budget" width="200″ height="200″ />