This post contains affiliate links.
TGIF, H54F-ers!!! Della at Della Devoted, Katie at Cup of Tea, and myself want to welcome you to the High Five for Friday link-up and the weekend. We made it!
This week's featured blogger is Christina from The Patricios, a lifestyle blog, with a lot of fashion mixed in. Christina is a mom of two. I love this mommy-and-me jean jacket look. And she's giving away a pair of Freshly Picked Moccasins that you can enter to win through this Sunday!
Shop everything here. Wallet is from Kate Spade Outlet.
Now let's recap this week's highlights:
1. It was so pretty on Friday night that Kane and I had a date night on the patio at Mod Pizza. It was fun to dine al fresco and spend time with them. Then I went outlet shopping at Outlet Shoppes of the Bluegrass the next day and Chauncey took Kane out for a lunch date:) While I nabbed some things for myself, I also nabbed some things for upcoming giveaways, including a little something sweet from the pic above (I grabbed one for myself too)!
2. Um, why do I have to diet over the holidays?! Easter candy is the BEST candy! This week I picked up the Peeps Oreos and the new Cadsbury Chocolate Crunch and Creme Mini Eggs. O. M. G.! They are both so delightful and yummy, but a LOT of Weight Watchers points:(
3. I grabbed lunch with another law school friend this week and it was so fun! We went to the Shakespeare & Co. location in Hamburg, which just opened. The decor is so fun–even the menus look like storybooks! I had yummy chocolate chip pancakes
4. I have been stalking Ebay and Poshmark for a year trying to find a pair of Tory Burch Miller Flats in Dolce de Leche in my size for a prize I'm willing to pay (the color is a little hard to find). Well, the search is over! I won an auction on Ebay last night and got the sandals for less than I was willing to pay!!!! I also found Kane the McDonald's Happy Meal Magic School Bus toys from circa 1994 on Ebay this week and they've already arrived!!! I totally had these as a child:)
5. OK, I just found out about this event this week, and I'm so excited! If you live in central Kentucky and love reading a good romance novel, then you have to checkout the Authors in the Bluegrass event! It is April 22, and today is the last day to grab your tickets. There will be over 50 authors there, including some of my faves–Abbi Glines, Jillian Dodd, Kathleen Brooks, etc. I will be volunteering at both sessions, so be sure to come say hi if you spot me there!
ICYMI, here's this week's posts:
Thanks for joining us for H54F! Be sure to link-up below and/or let us know how your week's been in the comments!
Follow along on GFC (click link or click button sidebar), Bloglovin' (click link or click button on sidebar), or email (click here). Also, tweet us or use #H54F and we'll retweet your post!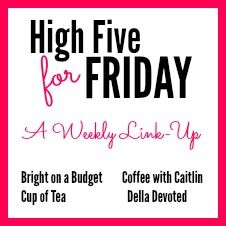 <div class="bright-on-a-budget-button" style="width: 200px; margin: 0 auto;">
<a href="https://www.brightonabudget.com" rel="nofollow">
<img src="http://i40.photobucket.com/albums/e232/coffeewithcaitlin/h54f2_zpsc7e1f4e7.jpg" alt="Bright on a Budget" width="200″ height="200″ />