TGIF, H54F-ers!!! Della at Della Devoted, Katie at Cup of Tea, and myself want to welcome you to the High Five for Friday link-up and the weekend. We made it!
Our featured blogger section will return next week.
Now let's recap this week's highlights:
1. Last Saturday was the Lilly Pulitzer reveal at Clothes Mentor in Lexington! My friend Jacque and I always go, so I was there at 8:45 a.m. waiting on them to open at 10:00 a.m. My friend Katrina from KCK Bangles was also there. It was sooooo cold out, but we all had fun! I ended up with a Lilly for Target My Fans shift dress, a Lilly for Target scarf, and two pairs of regular Lilly shorts.
2. After the Lilly Reveal, Kane and I headed to eastern Kentucky for the night. We ended up going out to eat with our family at the local Mexican restaurant. The food was great, but the company was even better!!! It's nice for everyone to go hang out together.
3. This week, I've been working on several upcoming collaborations that are a little different than what I've done before. While I can't share all the details just yet, I'm excited for everything that's in the works! One project I'm working on is a blogger mini collection of jewelry pieces selected by me, one of which is the bracelet shown above with writing on it:)
4. This past week was International Women's Day. For a feature that Charming Charlie did in honor of the day, they asked who I modeled my style after. My answer: "My style is classic with a trendy twist, and I model that style after the everyday woman–regardless of the trend, it has to be wearable. I draw inspiration from my Instagram friends, fellow fashion bloggers, women I pass by on the street, and even my mom."
5. OMG, I have to share this with you. On Friday night, I could tell that Kane was being sneaky. I asked him what he was up to, and he replied, "Honestly nuffin'." So I asked if he was being mean, and he said, "Yea." Well, turns out ol' boy had staged a dino battle on my WHITE sheets with RED bath pant. There was "dinosaur blood" all over the place! He tried to say it was an accident, but trust me when I say that it was way too well executed to be an accident!haha Luckily it came out with a little Shout. Be sure you're following along on Snapchat (username: brightonabudget) and I'll post a picture of it.
ICYMI, here's this week's post:
Enter to win a LLR skirt of your choice!!!
Thanks for joining us for H54F! Be sure to link-up below and/or let us know how your week's been in the comments!
Follow along on GFC (click link or click button sidebar), Bloglovin' (click link or click button on sidebar), or email (click here). Also, tweet us or use #H54F and we'll retweet your post!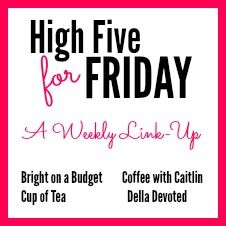 <div class="bright-on-a-budget-button" style="width: 200px; margin: 0 auto;">
<a href="https://www.brightonabudget.com" rel="nofollow">
<img src="http://i40.photobucket.com/albums/e232/coffeewithcaitlin/h54f2_zpsc7e1f4e7.jpg" alt="Bright on a Budget" width="200″ height="200″ />