TGIF, H54F-ers!!! Della at Della Devoted, Katie at Cup of Tea, and myself want to welcome you to the High Five for Friday link-up and the weekend. We made it!
1. One of my good friends from law school had a baby shower on Saturday. It was a lovely event and so nice to see my friends that I hadn't seen in a while. Afterwards, I stopped by the nail salon for a fresh SNS set.
2. On Sunday, I had a blogger brunch–thanks to Leela of Lex Eats for hosting us! Mariah from Like Honey was in town, so I picked her up on the way to brunch. It was such a good time!
3. Rynetta from J.Crew is My Fav Store and I have been trying to get together for dinner, and we finally made it happen! We met up at Shakespeare & Co., which is a whimsical restaurant with storybook-like menus. The food was amazing and the conversation was even better.
4. I needed to run to the mall to try on some clothes for an upcoming collab, so I promised Kane a trip to Build-a-Bear. They had just released Power Ranger bears, which I thought Kane would love. No, he wanted a dragon, so he picked out Hookfang. He had such a good time making his dragon and giving it a bath before we left.
5. Last night, I headed out to TSG Lexington's Spring Fling. I had no idea what to expect from the event and was flying solo, but it turned out to be so much fun. I ended up seeing the girls from Hartley Social and Kayla from Kayla Weber Art🙂
ICYMI, here's this week's post:
(Kate Spade clutch, Purple Peridot necklace, LipSense starter kit)
Thanks for joining us for H54F! Be sure to link-up below and/or let us know how your week's been in the comments!
Follow along on GFC (click link or click button sidebar), Bloglovin' (click link or click button on sidebar), or email (click here). Also, tweet us or use #H54F and we'll retweet your post!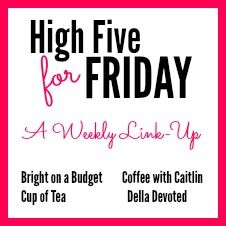 <div class="bright-on-a-budget-button" style="width: 200px; margin: 0 auto;">
<a href="https://www.brightonabudget.com" rel="nofollow">
<img src="http://i40.photobucket.com/albums/e232/coffeewithcaitlin/h54f2_zpsc7e1f4e7.jpg" alt="Bright on a Budget" width="200″ height="200″ />