This post contains affiliate links.

TGIF, H54F-ers!!! Della at Della Devoted, Katie at Cup of Tea, and myself want to welcome you to the High Five for Friday link-up and the weekend. We made it!
Here's this week's highlights:
1. We kicked off last weekend with two birthday parties–one on Friday night and one on Saturday afternoon. Kane had such a good time playing with friends, and it was nice to get to see our friends as well:)
2. After the party on Saturday afternoon, we shot blog pictures and then grabbed dinner on the patio at Palmer's Fresh Grill. It's beside a little lake, and we could watch the ducks swimming around while we ate. Kane was cracking us up–he asked for broccoli and was dipping it in ketchup–eewww!!!
3. Last night, I saw an ad for the shoes above and just had to go buy them. The floral pair are flats and the purple pair are heels, but you can get either color in the heels or flats. The heel version is just $13.50 and the flats are $12 when you use code 251564572 for an additional 25% off their sale price! You can shop them here.
4. I read lots of books this week. Here's some of what I read: I finally brung myself to read Molly McAdams's Blackbird, which was different but turned out really good! I read an old favorite, Warrior Woman by Johanna Lindsey, along with Beach Wedding by Natasha Boyd. And I read The Hard Way by Katie Ashley and Sex by Jillian Dodd–love these authors and they're going to be at the Authors of the Bluegrass event on April 22. Tickets will be available at the door–I'm volunteering the event, so I hope to see you there!
5. After a week of not sleeping well, I finally got a good night's sleep last night. It felt amazing!!!
Stay turned for an exciting H54F announcement next week!
Thanks for joining us for H54F! Be sure to link-up below and/or let us know how your week's been in the comments!
Follow along on GFC (click link or click button sidebar), Bloglovin' (click link or click button on sidebar), or email (click here). Also, tweet us or use #H54F and we'll retweet your post!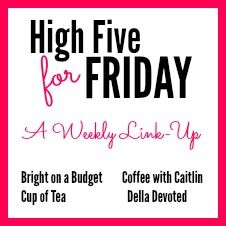 <div class="bright-on-a-budget-button" style="width: 200px; margin: 0 auto;">
<a href="https://www.brightonabudget.com" rel="nofollow">
<img src="http://i40.photobucket.com/albums/e232/coffeewithcaitlin/h54f2_zpsc7e1f4e7.jpg" alt="Bright on a Budget" width="200″ height="200″ />