TGIF, H54F-ers!!! Della at Della Devoted, Katie at Cup of Tea, and myself want to welcome you to the link-up and the weekend. We made it! We just wanted to let you all know that Caitlin at Coffee with Caitlin will be stepping away from blogging for a little bit. We'll especially miss our friend joining us to co-host H54F.
This week's featured blogger is Emily from Simply a Rough Draft, a lifestyle blog where Emily shares about faith, family, food, and friends. I love this recent interview she did with her 2 year old and 4 year old about movie quotes–it's hilarious! Also, her recent post on counting your blessings really resonated with me.
1. OMG, you guys, Saturday was the Lilly Pulitzer reveal at my favorite resale shop, Clothes Mentor in Lexington. They had been hoarding all of their Lilly buys over the winter and had a huge reveal. Jacque and I were there a little before 9 a.m. and were 1st in line. It was cold, but it was totally worth our dedication!!! We had a game plan and it so worked! I laid hands on a pair of Let's Cha Cha shorts for Jacque, and she laid hands on 2 Elsa. . .one for each of us (now, for my fellow Lilly lovers, you know you're good friends when you'll do that for each other!). I ended up with an Elsa, a Leona, a Skipper Popover, a cardigan, and a Lilly for Target Nosey Posie tank!!!! In Jacque's words, we were rock stars.hahaha
2. Saturday afternoon, after the reveal, I took Kane to a birthday party. He had so much fun with his friends. It's absolutely heartwarming to see them play together.
3. Sunday was sunny + warm. Chauncey shot this week's outfit posts for me (which you can see below) and we went out to eat at Blaze Pizza. The only downside is that Kane scraped his nose really bad on the concrete:( And then he re-scraped it worse on the carpet at school the very next day:/ Both times, he tripped and faceplanted. Definitely my child because he's so clumsy, but this momma's heart breaks when he hurts himself.
4. Tuesday night Kane and I had dinner with some friends and their kids. It was nice to get together with them, and fun! I'm thankful Kane behaves halfway decently in public now. . .for the most part.
5. I got in my very 1st order from ThredUp! They contacted me to see if I wanted to try out their services, and you know I love some good thrift finds. While a full review/recap is coming in the next couple of weeks, I wanted to share my referral link with you in case you can't wait to check out ThredUp–this link gives you and me each $10 for you signing up. Once you sign up, you can then share your own referral link with friends or on your blog and pass along the savings!
I hope you all have a wonderful week! Della and I are heading to get our hair done this evening. Mine needs a good cut and color.
ICYMI, this week's posts:
Thanks for joining us for H54F! Be sure to link-up below and/or let us know how your week's been in the comments!

Follow along on GFC (click link or click button sidebar), Bloglovin' (click link or click button on sidebar), or email (click here). Also, tweet us or use #H54F and we'll retweet your post!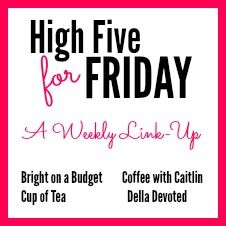 <div class="bright-on-a-budget-button" style="width: 200px; margin: 0 auto;">
<a href="https://www.brightonabudget.com" rel="nofollow">
<img src="http://i40.photobucket.com/albums/e232/coffeewithcaitlin/h54f2_zpsc7e1f4e7.jpg" alt="Bright on a Budget" width="200″ height="200″ />