TGIF, H54F-ers!!! Della at Della Devoted, Katie at Cup of Tea, and myself want to welcome you to the link-up and the weekend. We made it!
This week we're doing something a little different–our very own Katie is our featured blogger today to celebrate the birth of her son William!!! We're so excited to welcome the newest little member of our H54F family:) Congrats, Katie!!!
1. I'm now a member of The Blog Societies–the Southern Blog Societies to be exact!
2. My eye doctor's office, Stratton Eyes here in Lexington, was holding a giveaway for a pair of sunglasses on Facebook and I won! I also won a $25 shop credit to my friend Tracy's
LuLaRoe shop
! If you don't enter, you can't win.
3. We went out on an ice cream date to Crank and Boom one night this week. I got salted caramel and Kane got vanilla with sprinkles. The guys at the counter put the sprinkles on specially for Kane, but Kane did not want them!haha He had a meltdown and cried, but ended up liking them. Chauncey got coconut with bourbon cream that seriously looked like mashed potatoes and gravy.
4. On Saturday, I went to the doctor and found out I had a sinus infection (not a highlight). After a three-hour nap, though, we went to dinner at Red Robin. I love Red Robin because they have unlimited french fries. That's basically the equivalent of heaven on earth. And I got this sweet tassel scarf at Walmart for just $6.97 at Walmart when I was picking up my medicines earlier that day.
5. Kane is just as a wonderful age right now. His imagination never ceases to amaze me. We went out to shoot blog pictures on Sunday and he was climbing over rocks and playing with his dinosaurs. He also sang me a couple of songs last night while I was getting him to sleep.
I hope everyone has a fantastic and fun Memorial Day weekend!!! And FYI–
Kentucky Brewed Tees
is launching their summer collection today. You can get tees for $15 this weekend to celebrate the launch (online only)!
ICYMI, here's this week's posts:
(currently on major sale!)
(get in on one of this summer's biggest trends)
(love love love this box!)
Thanks for joining us for H54F! Be sure to link-up below and/or let us know how your week's been in the comments!

Follow along on GFC (click link or click button sidebar), Bloglovin' (click link or click button on sidebar), or email (click here). Also, tweet us or use #H54F and we'll retweet your post!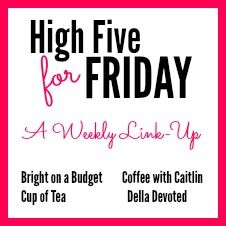 <div class="bright-on-a-budget-button" style="width: 200px; margin: 0 auto;">
<a href="https://www.brightonabudget.com" rel="nofollow">
<img src="http://i40.photobucket.com/albums/e232/coffeewithcaitlin/h54f2_zpsc7e1f4e7.jpg" alt="Bright on a Budget" width="200″ height="200″ />