I took the past week off from blogging since I was in Vegas for part of it. I intended to post on Wednesday, but it just wasn't in the cards. I'm trying to catch up on comments and blog reading now. I'd love if you'd leave me a link to you favorite post you wrote this week in the links below! Also, Caitlin will be returning to the H54F line-up next week.


TGIF, H54F-ers!!! Caitlin at Coffee with Caitlin, Della at Della Devoted, Katie at Cup of Tea, and myself want to welcome you to the link-up and the weekend. We made it!!!

This week's featured blogger is Abby from Always, Abby. Abby is a 20-something blogger who, like all of us co-hosts, blogs about a little of everything–beauty, life, style, essential oils–you name it, she blogs about it:) She recently did a Sugar Bash April Showers Box review (I really want to try the Wet Brush) and a round-up of her favorite eyeliners. I recommend checking out both posts, of course!


Now to recap the week:

Oh, friends, it's been a long one.haha I need sleep, sleep, and more sleep!
1. Vegas was excellent, as always! I'll be doing a recap of our trip in the next couple of weeks, along with at least 1 outfit post from my time there. We flew home on a red eye Tuesday morning and I went straight into work. BIG mistake–I'm still feeling sleep deprived, and have chosen to come home and relax in the evenings instead of blogging. But I'm back at it now:)
By the way, does anyone notice what the major difference between this two pics is? #creeper And sorry for the low image quality, but it was too funny not to share!
2. I love getting home and getting to see Kane! Parenting is hard work, and sometimes we all need a getaway to be able to relax, but there's nothing like coming home to my sweet little boy after spending some time away. I brought him back a Grumpy Cat stuff animal as his souvenir:)
3. Essie nailed it with their Neons Collections for 2015! I have only tried the blue shade, but it's a one coat wonder (OCW)!!! This mini 4-pack will set you back $17 if you purchase for full retail, but I purchased from eBay for much cheaper. This link contains some different products in addition to the mini 4-pack, so please pay close attention to what you're purchasing. I also purchased the Chillato color from their regular summer collection.
4. I had to run to the mall to pick up a gift for a bridal shower/bachelorette party I'm attending this week, and I stopped by En-twine Boutique at the Fayette Mall. It's a lovely, local shop that carries some goods by locals. They were hosting a showing by Lela Ray Jewelry. I picked up these gorgeous earrings but she had tons of adorable items. I hope you'll check her work out!
5. Since I've been running on steam this week, I made the best call I could have made about what I was having for dinner last night–the Cheesecake Factory. More specifically, I had the Chocolate Chip Cookie Dough Cheesecake for dinner. I shared some with Kane, and there's a little left over for breakfast today. Yum.
Thanks for joining us for H54F! Be sure to link-up below and/or let us know how your week's been in the comments!

Follow along on GFC (click link or click button sidebar), Bloglovin' (click link or click button on sidebar), or email (click here). Also, tweet us or use #H54F and we'll retweet your post!


BLOGGERS: Fellow bloggers–ready to join in the link-up? Just write a blog post about 5 things that made this week! Add your link to your blog post down below. We ask that you follow each co-host on social media and link back to the link-up. You can even grab the H54F button to add to your post!
Don't forget to visit your fellow linkers and say hi! We recommend visiting the featured blogger + 3 others. Drop 'em a comment to let them know that you're visiting from H54F so that they can visit you back:)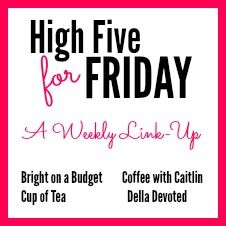 <div class="bright-on-a-budget-button" style="width: 200px; margin: 0 auto;">
<a href="https://www.brightonabudget.com" rel="nofollow">
<img src="http://i40.photobucket.com/albums/e232/coffeewithcaitlin/h54f2_zpsc7e1f4e7.jpg" alt="Bright on a Budget" width="200″ height="200″ />