For those of you in the central Kentucky area, I'll be co-hosting a styling event with Sarah from Space, Place, & Southern Grace at Clothes Mentor TONIGHT from 6-8 p.m. Hope to see you there!
Now let's recap this week's highlights:
2. One of my good friends from childhood got married on Saturday–congrats Adora!!! I was excited to get to attend her wedding, and she made a beautiful bride, but I totally forgot to snap any pics (I was exhausted).
4. Speaking of highlights, I got my hair done on Friday night! I go to Ginger at Le Rose Salon in eastern Kentucky. There's nothing more therapeutic than spending a couple of hours in her chair.
5. I preordered the new Samsung Galaxy Note 7! I need a new phone sooo bad, so I can't wait! Did anyone else pre-order it?

ICYMI, here's this week's posts:
(coming up on soon, so must read!!!)
Thanks for joining us for H54F! Be sure to link-up below and/or let us know how your week's been in the comments!

Follow along on GFC (click link or click button sidebar), Bloglovin' (click link or click button on sidebar), or email (click here). Also, tweet us or use #H54F and we'll retweet your post!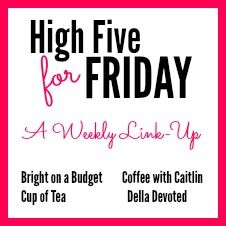 <div class="bright-on-a-budget-button" style="width: 200px; margin: 0 auto;">
<a href="https://www.brightonabudget.com" rel="nofollow">
<img src="http://i40.photobucket.com/albums/e232/coffeewithcaitlin/h54f2_zpsc7e1f4e7.jpg" alt="Bright on a Budget" width="200″ height="200″ />