TGIF, H54F-ers!!! Della at
Della Devoted
,
Katie at Cup of Tea
, and myself want to welcome you to the High Five for Friday link-up and the weekend. We made it!
BTW, yesterday was Della's birthday, so stop by and wish her a happy birthday!!!
1. It's not often that we make it out for brunch, but I love when we do! We went out to brunch at
Doodles
and were able to dine on the patio. I always get the beignets, along with a biscuit and extra crispy bacon. Disclaimer: I stole Chauncey's fruit for the purposes of this picture. I love the flavor of fruit, but the texture freaks me out.
2. I adore this picture of Gizmo. This summer made 7 years since we rescued her and Sox. She lazed around with the rest of us:)
3. Kane got Mickey mail from our Disney Travel Agent, Brooke at Middle of the Magic Travel! She sent the most adorable little bag of Disney items for Kane. If you're looking at going to Disney, I highly recommend her!!!! And her services are free to you!
4. I walked several times this week, and on one of my walks, I discovered this little neighborhood library! I think these are so sweet. Also, speaking of reading, if you haven't read The Little Grumpy Cat That Wouldn't, you need to ASAP! It's a Little Golden Book that I purchased at Kane's book fair, and it's perfect for all ages.
5. FYI, Victoria's Secret is currently having 20% off of their collegiate apparel, and they have the cutest Kentucky stuff! I got the Big Blue Nation tee and the reversible yoga pants. I also got a free drawstring backpack with my purchase–it's free if you spend $50.
ICYMI, here's this week's posts:
Thanks for joining us for H54F! Be sure to link-up below and/or let us know how your week's been in the comments!

Follow along on GFC (click link or click button sidebar), Bloglovin' (click link or click button on sidebar), or email (click here). Also, tweet us or use #H54F and we'll retweet your post!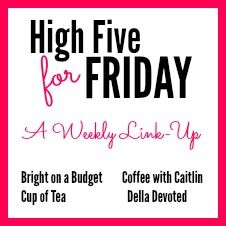 <div class="bright-on-a-budget-button" style="width: 200px; margin: 0 auto;">
<a href="https://www.brightonabudget.com" rel="nofollow">
<img src="http://i40.photobucket.com/albums/e232/coffeewithcaitlin/h54f2_zpsc7e1f4e7.jpg" alt="Bright on a Budget" width="200″ height="200″ />