TGIF, H54F-ers!!! Della at Della Devoted, Katie at Cup of Tea, and myself want to welcome you to the High Five for Friday link-up and the weekend. We made it!
This week's featured blogger is Tanya from Prairie Girl in the Big Scary World, a lifestyle blog. Tanya is from Saskatchewan, but lives in Florida and travels alot. I love this fun post about her recent trip to a butterfly garden. And she has this delicious looking recipe for a Reese's ice cream cake!
Now let's recap this week's highlights:
1. Last weekend was very chill as we were recovering from vacation before going back to work. I laid around and read books all weekend. We also went out to grab a bite to eat at Chuy's. It was a nice end to our vacation week.
2. A new pizza place opened here in Lexington this week called MOD Pizza. Ella, from Girl Meets Lex, and I grabbed lunch there on opening day. The atmosphere was fun, and they have a great patio area with a fireplace. The pizza is quick and delicious, so if you live in the area, be sure to check it out!
3. My friend Jackie and I attended an event at Rose and Lime, a local boutique. They were showing off their new fall items. We had a great time shopping, snacking, and catching up!
4. Becky from byBMG sent me one of the new LipSense colors she just happened to grab before it sold out. I love this stuff because once you put it on, it doesn't budge! I can kiss Chauncey or grab a bite to eat and it doesn't move. It also lasts for four to 18 hours, depending on your body's chemistry. I'm having a LipSense party with Becky, so if you're interested in learning more, you can join the party here.
5. Last night, I attended a reception for UPIKE Alumni here in town. UPIKE is where I went to undergrad at in eastern Kentucky. It was nice to see some old friends and connect with other alumni. Plus, the location was sooo pretty. I'll always be a mountain girl at heart, but the Bluegrass has grown on me.
ICYMI, here's this week's posts:
Thanks for joining us for H54F! Be sure to link-up below and/or let us know how your week's been in the comments!

Follow along on GFC (click link or click button sidebar), Bloglovin' (click link or click button on sidebar), or email (click here). Also, tweet us or use #H54F and we'll retweet your post!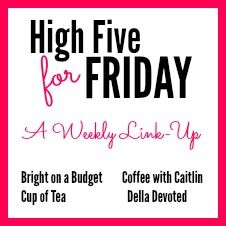 <div class="bright-on-a-budget-button" style="width: 200px; margin: 0 auto;">
<a href="https://www.brightonabudget.com" rel="nofollow">
<img src="http://i40.photobucket.com/albums/e232/coffeewithcaitlin/h54f2_zpsc7e1f4e7.jpg" alt="Bright on a Budget" width="200″ height="200″ />